Sara Krak comes from Bosnia and Herzegovina and studies Electrical Engineering at TU Graz. As an International Student Ambassador she answers any questions regarding degree programmes and anything related to studying and living in Graz.
What it is like to be part of TU Graz campus life? Sara Krak, international student in Graz, Austria, writes about her everyday life experiences in general and about how Corona restrictions affected them.
Even before coming to Graz and studying at Graz University of Technology (TU Graz), I was excited about the whole student life experience – learning new things and improving my skills, but also spending time at campus and meeting new people. Campus life is in general really important for students, as it is a big part of their everyday life. Going from one lecture to another, taking a break at the campus canteen ("Mensa") or preparing for an exam in the learning areas, the campus is a place a student always needs to get back to. How do international students manage to adapt themselves there? What happens when students' everyday life changes due to the corona restrictions? How have these corona restrictions affected campus life at TU Graz, if at all?
About TU Graz Buildings
TU Graz comprises three campus locations – Alte Technik, Neue Technik and Inffeldgasse. They provide required services and offer places for teaching, researching and experimenting, studying, socializing, eating and drinking. Day by day, TU Graz is growing and improving itself in order to present a better setting for its students and employees.
On the TU Graz website you can find more about the history and organization of the TU Graz campuses.
Being an international student at TU Graz
As I was preparing myself to leave my home country, I have been thinking about how I can adapt myself to a whole new environment. So many thoughts and questions were spinning around in my head – am I going to regret moving to another country, am I going to feel like I belong there, how much am I going to miss my home? It is probably something every international student goes through while taking this big step. Arrival at Graz and the process of adjusting were easier than I have expected. The city of Graz and Graz University of Technology welcome people from all over the world. I have met many people who were very understanding of my needs, and they have made this stage of my life so much easier. As time went by, I have found Graz to be my second home.
In their blogposts, Gergő Horváth and Matko Mitrović, both international students at TU Graz, write about Graz as a city to live in and about Graz as a city for active and sporty students.
The Welcome Center of TU Graz assists international students with their arrival and answers their questions. It also offers an opportunity for socializing and networking through many events, trips and outdoor activities. These can help internationals to explore the city, meet new people, learn about their culture and exchange experiences. Due also to the good atmosphere, they get a chance to learn new things to make their stay at TU Graz easier.
More Information about the Welcome Center can be found at the TU Graz website.
A typical day as a student at TU Graz
It happens rarely that a student visits all three of the campuses in one day. This depends mostly on where your lectures take place. TU Graz campuses are located near downtown, which means that they are all easy to access. When I am in need of the Registrar's Office or if I am doing an educational ambassador training course, I will be visiting Alte Technik Campus.
Most of the lectures and laboratories of my Electrical Engineering bachelor's degree programme are held at Campus Inffeldgasse. This is where I spend most of my time.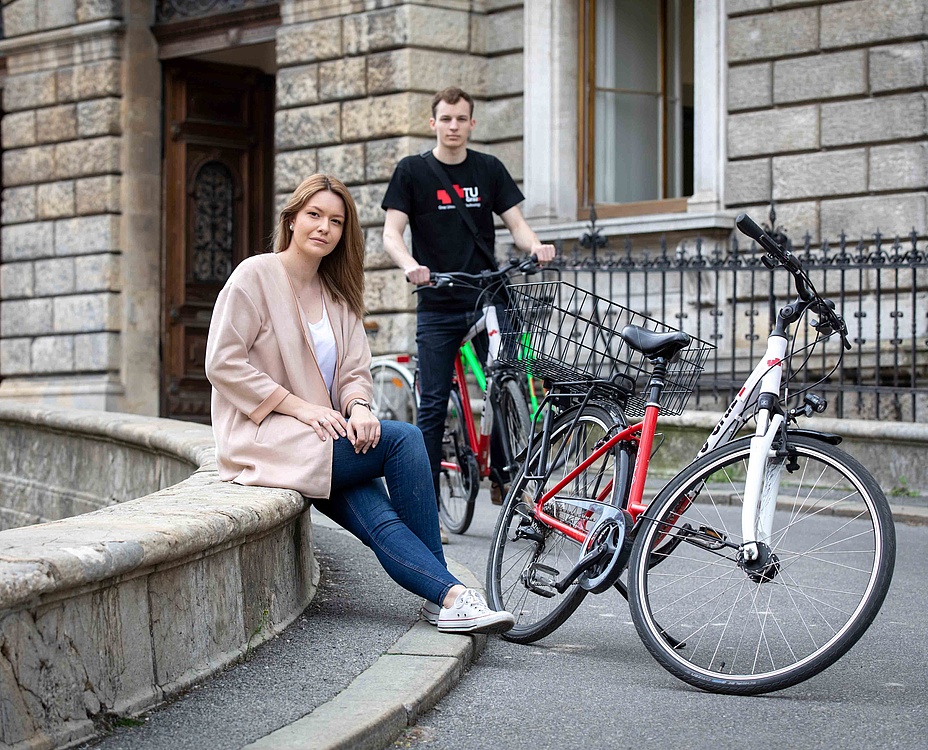 TU Graz campuses are located near downtown, which means that they are all easy to access, for example by bike. This picture is taken in front of the main entrance of the "Alte Technik" building.
Eating and drinking on campus
In between the lectures I like to take a break and drink a coffee or eat a snack at M-Café. TU Graz Mensa also offers a range of great options for lunch. But where I love having a meal the most is definitely at the rooftop in Stremayrgasse at Campus Neue Technik. This is where you can enjoy an amazing view over the city while eating a daily special. Being a member of the Mensa Club offers you discounts of up to 20 percent: this is a great deal for students. And if you enjoy resting outdoors, there are many green spots which enhance the campuses.
In a multi-part food story, TU Graz's News+Stories editorial team introduces the range of food offered at Campus Alte Technik, Neue Technik and Inffeldgasse vor – from rented suppliers to vending machines.
Learning areas and copy shops
The TU Graz campuses provide spots for studying, where most of the students prepare for their lectures, exercises and exams. Students often study in pairs or groups, which I personally find very productive. You can get support, exchange information and gain well-rounded insights while studying with other students. This could be a good way of adapting for international students. Apart from the places for learning, the three campuses of TU Graz offer copy stations in case you need to print, scan or photocopy a document. All the services and settings of TU Graz are combined to provide a perfect place for study and work.
University Libraries
If you are in need of a library, TU Graz offers you three of them: Main Library, NAWI Subject Library and Inffeld Subject Library. Besides finding a needed book, this is where you can also study and do research.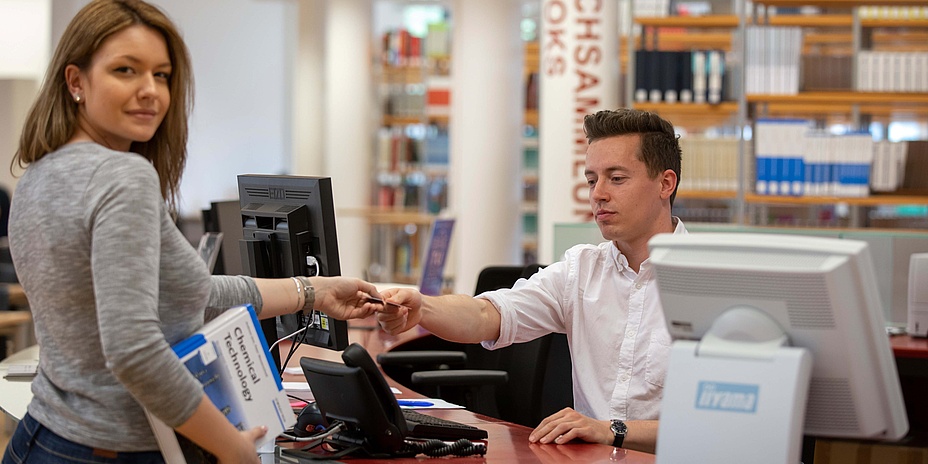 The TU Graz library with it's Subject Libraries is a knowledge store, a place of learning and a modern service department of TU Graz.
Events at TU Graz
TU Graz is where many events take place. These events are a great opportunity for students to socialize and integrate. Many of them, like the career fair Teconomy, are also attended by very successful Graz companies looking for students as future employees. This means that students are also given an opportunity to find work in their field of studies. You can keep up with TU Graz events at the online calendar.
Influence of corona on campus life at TU Graz
The typical day at TU Graz changed suddenly when students and staff were informed about the upcoming corona restrictions. Due to these restrictions, teaching activities took place virtually for almost a whole semester. During the lockdown, most of the lectures and exams were held online. Laboratories were opened only a couple of months later with safety precautions and hygiene regulations.
The occurrence of COVID-19 has changed the daily life of all students. Keeping up to date has been really important for us. Starting with the first lockdown, students of TU Graz were informed about all the news, changes and restrictions via official email and a webpage. TU Graz and its institutes were looking for the best possible solutions to avoid a lost semester. Teaching and activities at the University had to be reduced to a minimum in order to curb the spread of the corona virus. As many institutions, facilities, offices and stores in Austria had to be closed down during the lockdown, TU Graz had to do the same.
Although it seemed like the semester could not be held, distance learning and online examinations have helped students to keep up with their curriculum and staff to continue working. All the regulations followed the orders from the Austrian Federal Government and Federal Ministry of Education, Science and Research. After the lockdown, TU Graz started opening more and more of its institutions for students and employees with applied hygiene and distance-keeping regulations.
Winter semester 2020/21 at TU Graz
In the winter semester 2020/21 campus life has been slowly getting back to normal. On-campus teaching and testing is only possible to a limited extent – due to compliance with safety and hygiene regulations. Courses and exams take place in various forms following the slogan "digital first": distance only, mix of on-campus and distance or on-campus.
All the newest information regarding TU Graz measures concerning COVID-19 are to be found on the TU Graz "current and official" website and I warmly recommend visiting the website "Internationals at TU Graz - COVID-19 Information" which provides all internationals – exchange students, degree seeking students, staff and guests – with COVID-19 information.
TU Graz: a welcoming university with quality education
Studying at TU Graz has not only enabled a quality education for me, but also helped me change my perspective and open myself up for new opportunities. The University's welcoming attitude makes it possible for every international student to feel at home in Austria, as though it were a second home. Even through the difficult times, TU Graz cares about its students and works on providing the best possible environment for them.
This video is hosted by Youtube, clicking on it will send data to Youtube. The privacy policy of Youtube applies.


Play video
Why choose TU Graz? TU Graz "International Student Ambassadors" Hannah and Endrit talk about why they chose TU Graz for their bachelor's studies.
Blog start page