Fashion and sustainability often seem to come from two proverbially different planets. "Fast fashion" and short-lived trends, monthly new collections and inferior quality say hello. Textiles made from wood fibres may not change our often careless approach to clothing, but they can improve the eco-balance. The materials Modal and TencelTM are among them. They are made of cellulose instead of synthetic polymers, and in addition, their manufacturing processes are very ecologically sound. "These are the materials of the future par excellence," enthuses designer Bettina Reichl. The Graz-based designer has already made several collections from them. "They have a wonderful feel, like silk. They are skin-friendly and therefore suitable even for allergy sufferers and butterfly children. And you can still wash them in the washing machine. Customers who have got to know these materials through me, love them. Meanwhile, they have become an important feature of my collections."
Design from forest "waste"
Reichl adds that Lenzing AG is the world market leader in this field in Austria: "Residual materials are used that are produced from thinning – during maintenance activities to preserve forests. No additional cultivation areas are used. And the whole production cycle is better – much more sustainable than organic cotton." Reichl speaks of a "material revolution" that is currently taking place. "Synthetic fibres have simply been marketed very well. The breathability of natural materials would make them particularly interesting in the sports sector."
Awareness that even washing synthetic materials increases the problem of microplastics in our oceans is leading to a turnaround, says Reichl: "But there also needs to be more quality awareness again. So that we use clothes for a long time and not just one season. Viewed as a whole, fashion made from wood fibres is no more expensive than cheap synthetic pieces – but you have to factor in the waste problem and recycling." Incidentally, as part of her intercultural fashion project Crossing Fashion, Reichl is promoting Lenzing's materials among other designers worldwide, from Mongolia to Sri Lanka.
Big technical potential
"Textiles made of cellulose fibres are a very interesting topic and also a regional one due to Austria's world market leadership. But these are by no means all the applications that are possible with cellulose and other biopolymers," says Karin Stana Kleinschek, picking up the thread and spinning it further. The materials researcher at TU Graz points to the great potential that arises from the use of polysaccharides. This group of natural polymers includes not only cellulose but also, for example, hyaluronic acid, which is found in human tissue. There it fulfils important functions, such as binding water and lubricating joints. The processes and functions of biological materials that nature "invented" long ago are now better understood. They are imitated and converted into new products with a better environmental footprint or desired medical properties.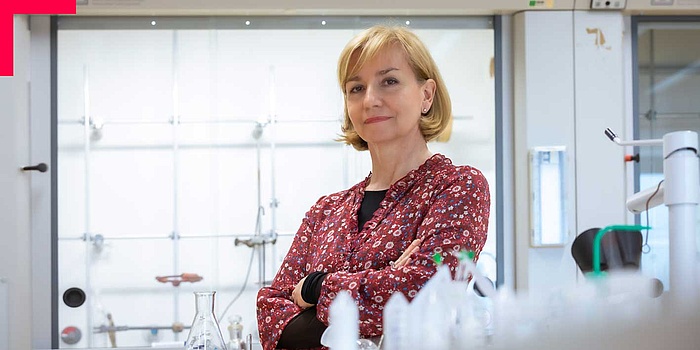 "With the right chemistry, we can produce a lot of valuable things from wood fibres," says Karin Stana Kleinschek, a materials researcher at TU Graz, referring to its great potential.
"Plastics, or synthetic polymers, have been and continue to be highly recognized and important materials for a modern society. After all, they have very useful properties. But degradability, utilization of resources, recyclability and reduction of emissions have become more important. Recently, therefore, there have been increasing efforts to replace synthetic plastics with biopolymers in mass applications," says Stana Kleinschek, head of the Institute of Chemistry and Technology of Biobased Systems. This applies to interior trim for automobiles as well as computer components and textiles. "Wood is not just for burning; we can make a lot of valuable things out of it with the right chemistry. Cellulose is a promising candidate when it comes to having a readily applicable and renewable material ready with lower emissions in manufacturing, use and disposal." Biobased does not automatically mean more environmentally friendly. But in general, the ecological assessments of these materials are excellent. You just have to find the right techniques and uses for it.
An aorta from the 3D printer
At the TU Graz's Institute of Chemistry and Technology of Biobased Systems, Professor Kleinschek and her team are conducting research on, among other things, the 3D printing of biogenic materials on which living human cells feel particularly comfortable. In tissue engineering, the focus is on materials for artificial tissue cultivation. 3D printers are used to print living cells and produce models of human aortas or cartilage to make them usable in medicine. Even nano-fibres, extracted from wood as a building material, are being studied for mechanical reinforcement of these materials. The biocompatibility, water retention and special mechanical properties of these ultra-fine plant fibres are exploited.
International collaborations
Cooperation is a top priority in this context. This takes place, on the one hand, within the Graz city limits – for example, with the Medical University of Graz, which is important for tests of the new materials. But it also takes place on an international level with research institutions throughout Europe and the USA. "Research thrives on cooperation and interdisciplinarity," says Stana Kleinschek. Even her institute at TU Graz is interdisciplinary. Stana Kleinschek works as a technologist on polymers. And the deputy director of the Institute, Professor Tanja Wrodnigg, works on the chemistry of sugars – the molecular building blocks of cellulose – and many other biopolymers. Even if Karin Stana Kleinschek's first passion is for research, as is immediately apparent in conversation, she still has a lot to say about fashion. "Modal and TencelTM are really extremely good materials with a great future. I'm so thrilled that an Austrian company is a global leader in TencelTM."
Studying at TU Graz: If you are interested in studying Materials Science, a degree programme in (Technical) Chemistry or (Technical) Physics is the right choice. At the interface of technology, medicine and natural sciences, TU Graz's degree programmes in Biomedical Engineering and Process Engineering are among an interesting range of future-oriented courses.
There is also a variety of choice in the area of master's degrees – from English-language Master's programmes in Advanced Materials Science, Biomedical Engineering, Biorefinery Engineering, Biotechnology, Chemical and Pharmaceutical Engineering to the German-language Master's programmes Biochemistry and Molecular Biomedicine, Molecular Microbiology or Plant Sciences. Some of the degree programmes mentioned are NAWI Graz programmes and are offered jointly by TU Graz and the University of Graz.
For more information, go to the "Degree and Certificate Programmes" website.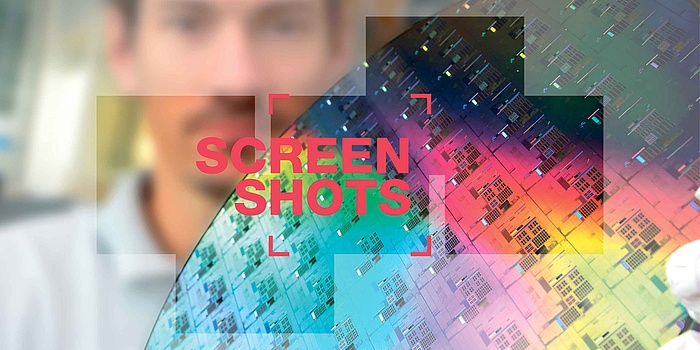 Researchers at TU Graz are looking for solutions to the burning problems of the present. What topics are currently on their radars and what you can study to change the future, you can find out on TU Graz screenshots.