TU Graz's Campus Alte Technik, which includes mainly the buildings in Rechbauer-, Lessing- and Technikerstraße, all of which you can almost count on one hand, is small but fine, and you could say the same for the location's culinary offers. Simply said: Café KORK in Lessingstraße 25 with its modest selection of eatables and drinkables put together with loving care – also for those with special eating habits – is fine in the sense of cosy. But you have to look the facts in the eye: there are more vending machines than eateries on this campus.
In this series, TU Graz's News+Stories team gives you the low-down on the food and drink options at the university's Campus Alte Technik, Campus Neue Technik and Inffeldgasse sites – covering everything from the catering providers to the vending machines. You will find part two, focusing on Campus NeueTechnik, here.
A small study of vending machines
Technikerstraße 4 (reading area of the TU Graz Library), Lessingstraße 25 and Wastiangasse 6 each have two vending machines. Insert money to get your chilled drink selection from the provider 'For 4 you' which includes Coca Cola, iced tea, Cappy spritz and Emotion. Right beside it there is a Dallmayr vending machine which also takes cards and has a surprisingly big selection of sustainable coffee to go and chocolate drinks.
But Rechbauerstraße 12 with its four vending machines in an alcove on the lower ground floor is the front-runner. The above offers are supplemented here by a Veit milk vending machine with milk and yoghurt in a range of different flavours. But if you're looking for lactose-free milk, you'll be disappointed.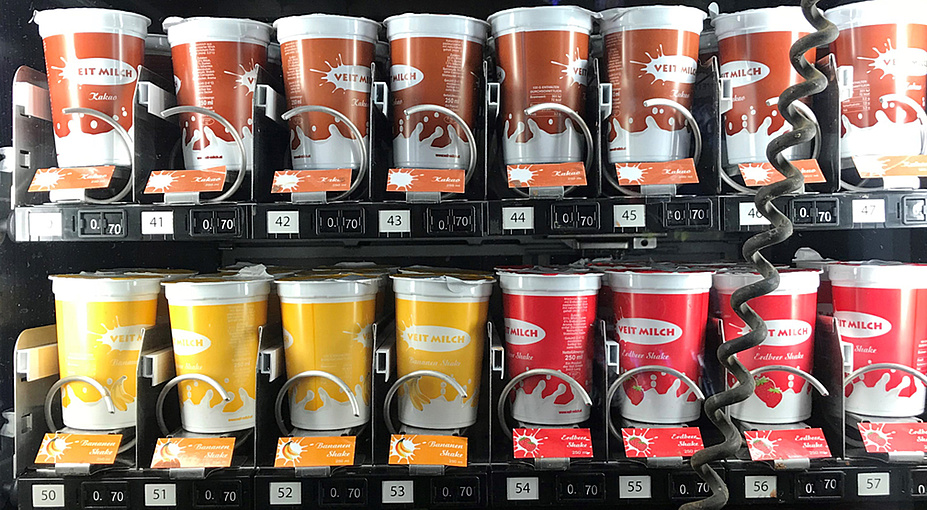 For that little something between meals: milk products from the vending machines on Campus Alte Technik.
In addition, there is a wide selection of sweet and salty snacks from the For 4 you snack vending machine. This includes chocolate and muesli bars, jelly babies, Manner Schnitten (wafers) and Zotter chocolate, peanuts, chewing gum, mineral waters, fruit juices, and assorted energy and soft drinks.
KORK: more than just coffee
'From Monday to Friday we offer two lunchtime dishes, which are different every day, one of which is always vegetarian, at 7.10 euros without soup, and 8.30 euros with soup. We always have a chilli dish, curry and cheese Krainer (type of sausage),' says manager Theresa Schmitzer, explaining the culinary concept of Café KORK in two sentences. 'The pita bread filled with humus and vegetables arrives at the table toasted, and makes a very suitable in-between or main meal. And if you're vegan or need to eat gluten-free, there's something for you at KORK. I recommend our daily curry dish.' While tasting the dishes in the quiet outside terrace at Lessingstraße 25 in the park behind the Alte Technik, I quickly realise it's more than just a café here. And the coffee is nothing to run away from either – on request served with homemade cake from the kitchen of the trained pastry chef.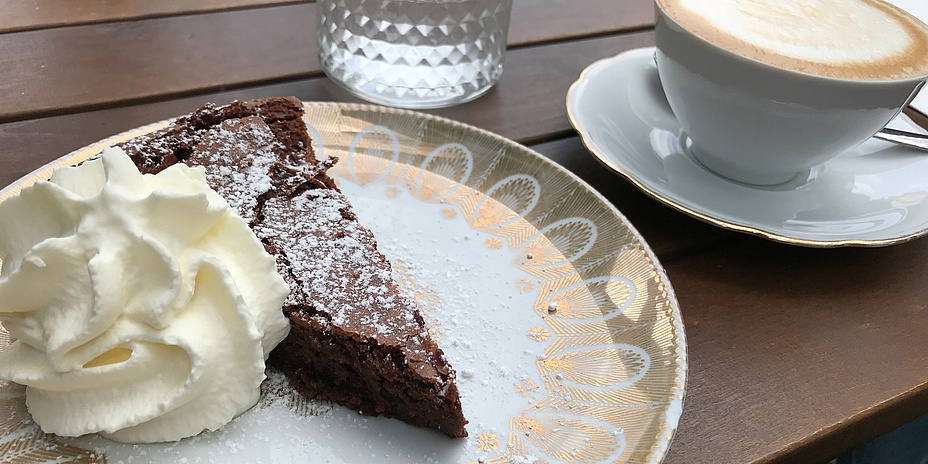 Coffee served with homemade cake from the kitchen.
Both are recommended by the friendly young woman with the congenial smile as a late breakfast. Because the customer base don't really appreciate early opening hours, KORK opens at 11 am. 'At midday I can recommend our chilli brunch, and the flanini is also a good choice,' says Schmitzer.
CORK should be a cosy place where each person feels good. (Theresa Schmitzer)
In the evening, when business partner Mischa Mendlik takes over the premises, CORK mutates into an ideal warm-up bar in the vicinity of the university quarter. The barkeeper of many years serves different beer specialities from smaller breweries, Club Mate as an alcohol-free variant and selected scotches, whiskeys and bourbons. His special passion is the harmonious choice of music that not only the regular clientele appreciate. As special events there are stand-up comedians, concerts and other events which are always announced on the CORK Facebook page.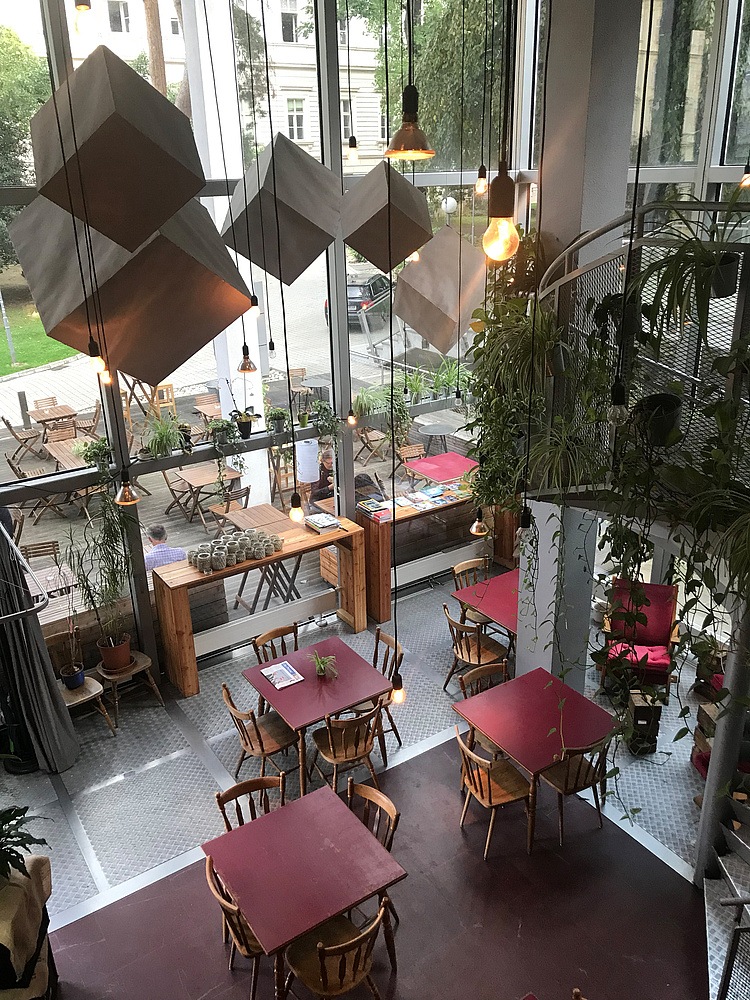 View from the gallery on the dining area. The first floor of Café KORK can also be reserved for celebrations.