It's 11am and still peaceful in the canteen in Inffeldgasse, peaceful enough to study the weekly plan without being disturbed on the way to the meeting with chef Martin Grabenhofer and Albert Jokesch, Graz team leader of Österreichische Mensen Betriebsgesellschaft GmbH. From tender wheat vegetable gratin, vegan chillied vegetables or quark apricot strudel to braised beef in red wine sauce – there's something here to everyone's taste. And as the perfect spicy chicken curry with fruit, wok vegetables and basmati rice dissolves on my tongue during the tasting, it strikes me that if against all expectation you find nothing you like here, you should nevertheless definitely pay a return visit. Because the new man on the bridge wants to increase the range of vegetarian and vegan dishes and take into account food intolerances in the future. And on top of this, in the future he wants to offer cooking courses.
After jobs in Germany, Switzerland, Italy, on the Canaries, Baltimore and Miami, Austrian-born Martin Grabenhofer took over the ship 'Grandeur of the Seas' for Royal Caribbean International – the world's second largest cruise operator – in the year 2000, thus taking responsibility for over 20,000 daily meals. He got to know foreign cities, exotic colours and smells, and discovered the delicacies of distant lands. In all those years the enthusiastic cook and organiser never gave up his base station in the Laßnitz valley near Graz and the connection to the culinary pleasures of Austria. On 4th January the culinary cosmopolitan signed on with the Graz canteens.
New curry concept
When he starts to talk about cooking and planning, the eyes of the hitherto reticent chef who took over operation of the fleet of five Graz canteens in January start to shine. 'After reopening the newly designed oldest location on Sonnenfelsplatz in March, we've been offering various curries daily which we'll be regularly integrating into the menu of the other locations,' explained the Graz-born, culinary cosmopolitan who was on seven of the world's biggest cruise ships for more than 17 years – a unique experience. On the 'Grandeur of the Seas', the man with the appearance of an old sea dog was the chef of 140 cooks from more than 30 nations and responsible for more than 20,000 daily meals. What remains is a love of international cuisine which shines through again and again in the canteen meal plan.
Martin Grabenhofer's motto: 'age-old, honest cooking, freshly prepared using regional ingredients just like our mothers used to do – in combination with the "modern" – is still the best cuisine.'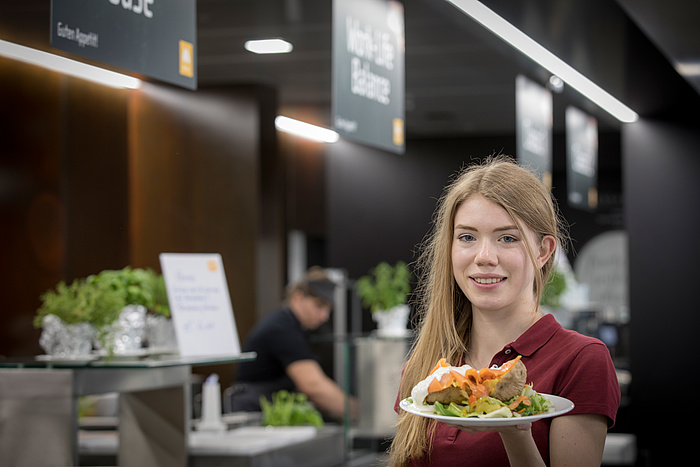 The Green Plate Top certifies a perfectly balanced and healthy dish. The Green Plate meal line can be recognised by the logo on the canteen meal plan.
Green p(a)late
The colourful mix of a down-to-earth cuisine and international influences, freshly prepared every day with regional ingredients, is second nature. 'On 22nd March Styria Vitalis awarded us with their label "Green Plate Top" – their highest award for healthy cuisine. We won the certification in record time because a lot of things we were tested for we do naturally anyway,' says a delighted Albert Jokesch. 'Every day from Monday to Friday a set meal is labelled "Green plate", thus making it easier for guests to make a healthy choice.' And of course at the same time, there is also green catering. In the course of daily business Martin Grabenhofer and his team conjure up onto the table 700 to 800 meals at Inffeldgasse alone – that's a total of 2,000 meals taking into account all the locations. This noticeable fresh wind in the conversation with Jokesch and Grabenhofer is also picked up by the customers and is shown by the constantly increasing demand. At the end of the tasting, which was crowned by a fantastic sweet chestnut mousse, the Infeldgasse canteen had filled up to noises of clattering and sizzling, inviting customers to come again