Keep in mind though that due to the current situation all the Christmas markets are closed until further notice but will be mentioned anyway (alongside some great walking trails) for better times to come.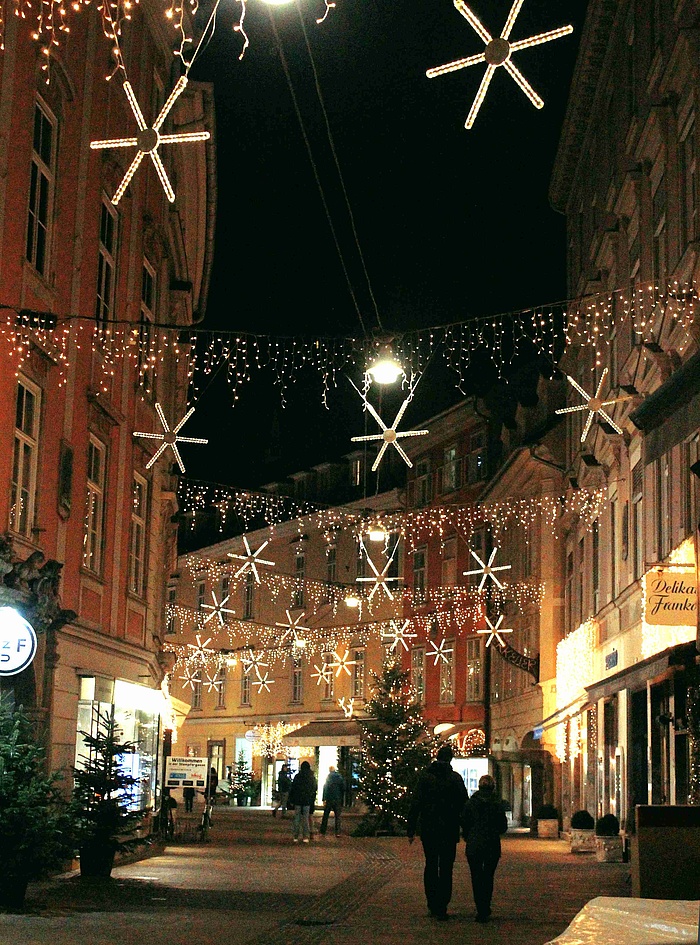 The Christmas lights create a warm and cosy atmosphere throughout the historic city centre – even in the time of coronavirus.
City centre – Hauptplatz, Herrengasse and Südtiroler Platz
If you enjoy Christmas-themed lighting decorations, you shouldn't miss the Hauptplatz or Herrengasse. The entire historic city centre is decorated in such manner that it creates a warm and cosy vibe. It is an amazing place to spend the weekend night out, or even simply take a walk in the evening.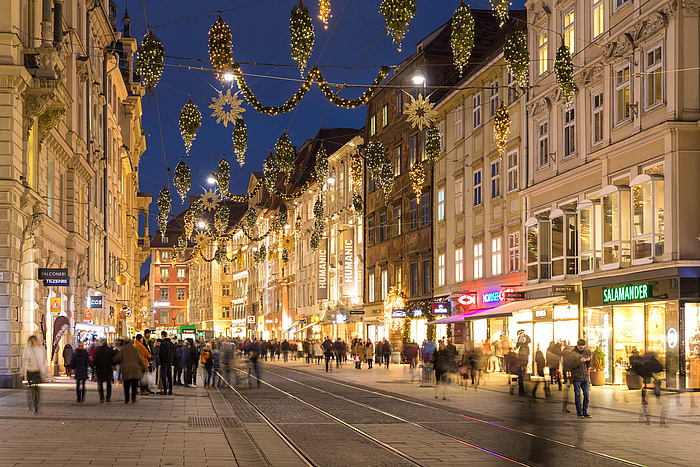 Every year in Advent, Herrengasse in Graz is decorated with lights.
One of the most popular Christmas markets is located directly on Hauptplatz, and a huge magnificent Christmas tree is a part of it. In the little wooden huts all around the main square you can buy everything from little handcrafted decorations to very tasty deserts. However, one of the main reasons to visit is a cup of very famous Glühwein (mulled wine), or maybe even punch, which I can only recommend you try if you have the chance.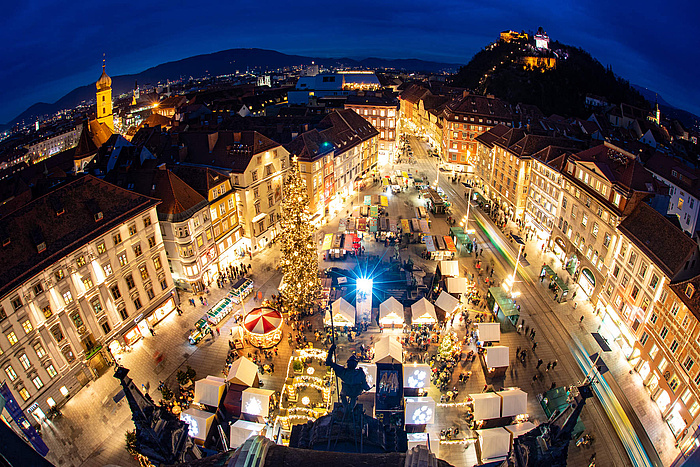 One of the most popular Advent markets in Graz is located directly on Hauptplatz.

Südtiroler Platz Christmas market is only a few walking minutes away from Hauptplatz, yet it offers a somewhat more intimate atmosphere with the same degree of fairy-tale-like decorations. If it's too crowded on the main square for your taste, I would suggest giving it a shot.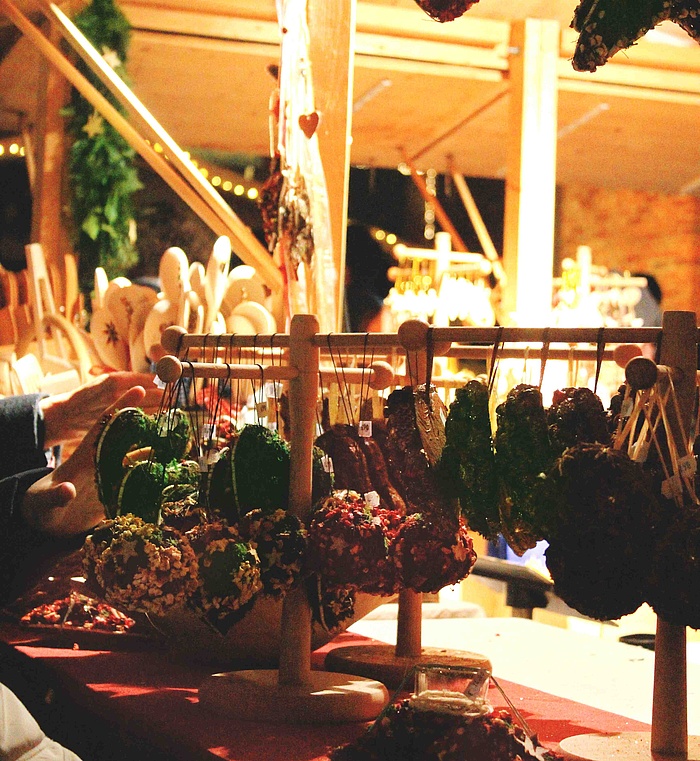 The Christmas markets in Graz offer regional products, natural cosmetics, jewellery, fashion and much more.
Schlossberg
Even if it requires quite a bit of stair/ hill climbing (although also accessible by elevator and Schlossbergbahn (funicular railway), the Schlossberg winter magic is well worth the effort. It is separated from the city hustle and bustle, nonetheless it's a very popular destination.
In front of the infamously steep Schlossberg stairs, you will stumble upon an Advent sales-free area called "enchanted forest", where you can relax and enjoy beautiful posters from many different fairy tales.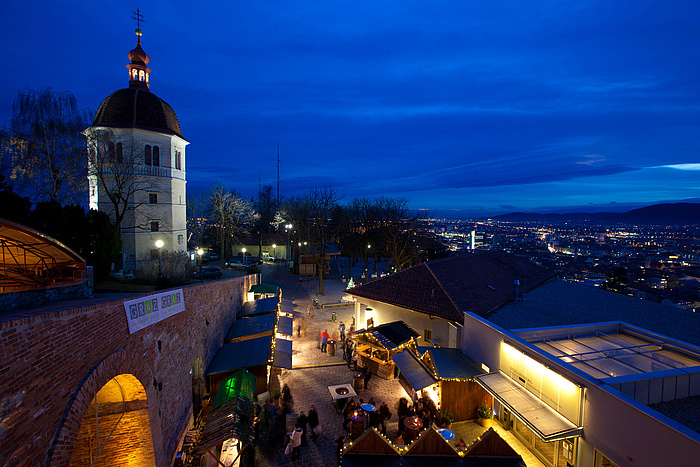 The "Aufsteirern" Christmas market on the Schlossberg above the city centre is one of the most beautiful Christmas markets in Graz.
On the Schlossberg itself, you will find one of the most enjoyable Christmas markets in Graz. The atmosphere up there can't really be described, but I personally felt like I was in some sort of a small village, far away from the city crowd. You can of course stop and enjoy a cup of Glühwein, but just walking and picking up the scent of winter delights is usually enough for me.
More than a dozen Christmas markets make the historic city centre of Graz a popular attraction during Advent.
All that ice
Ice skating is a very popular winter activity in Graz. With an area larger than 2500 square metres, Graz Winterworld is one of the biggest outdoor ice-skating arenas around. The indoor arena can be found in the Merkur-Eisarena.
However, ice skating isn't the only activity related to ice in Graz. Between Herrengasse and Schmiedgasse, in the Landhaus courtyard, one can find the so-called Ice Crib (Eiskrippe). Around 50 tons of ice are used to make wonderfully carved ice sculptures of the Christmas nativity scene. It is a traditional feature of Graz advent, and well worth the visit.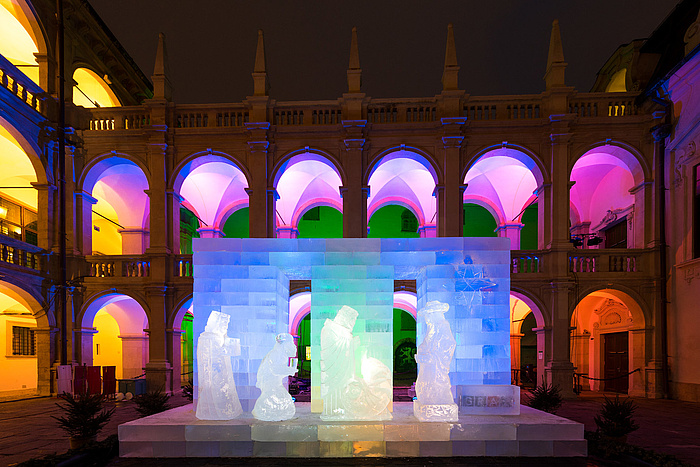 Every year, the huge Graz ice crib is modelled from tons of ice.
The gardens of Schloss Eggenberg
I can't say that the gardens of Schloss Eggenberg are a typical place where one would choose to go to enjoy the Christmas spirit (since there are no decorations or decorative lights), but in my opinion, it is a hidden gem. When snow falls, and the big old tree branches turn white, there is something so wonderful about just taking a walk there. The palace surrounded by snow and fog looks as if it was a film set, and the occasional faun just adds to this surreal experience.
Many locals take the opportunity to take a walk around the garden on a Saturday or Sunday morning, and for students it costs only 1 euro to visit it.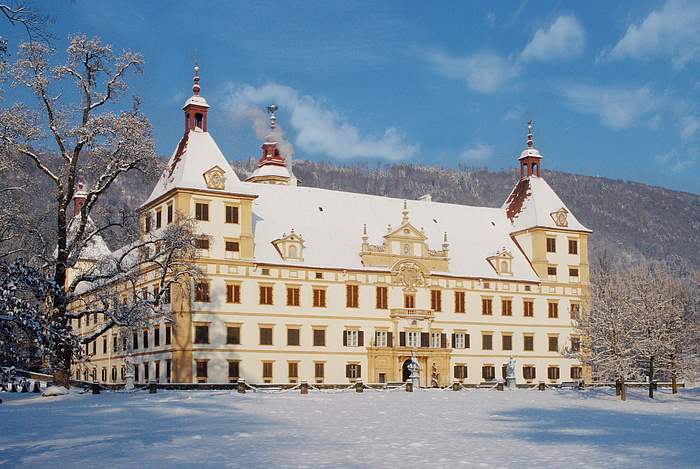 A walk through the park and gardens of Eggenberg Palace is a unique winter treat in Graz.
COVID-19 Measures: As of 22 November 2021, we are in a lockdown, which means all the Christmas markets are currently closed until further notice. We all hope that the situation will get better soon, so that we can enjoy the Christmas spirit as we usually do. Until then, my advice is stay safe and stay home, and maybe even try to make a cup of Glühwein yourself, you would be surprised to find out that it's not that hard at all.