Coming to Graz was my first experience of living far from my homeland and even my first visit to Austria. I got my admission only two months before the start of the project, and organizing all the administrative work on immigration was a tough grind. But then I was introduced by the secretary of the Institute of Process and Particle Engineering (IPPT) at Graz University of Technology (TU Graz) – where I am working on my PhD project – to the Welcome Centre of TU Graz. Starting with the first email, everything magically became very simple and easy to handle with the help of Birgit Eggner and Elisabeth Meßner.
The Welcome Center of TU Graz supports degree-seeking international students, researchers, staff members and guests, even before arrival and during their stay in Austria.
How I found my PhD programme in Europe
I had actually set my mind on doing my PhD in Canada, despite it being so far from home and relatively cold. I was thoroughly engaged in correspondence with my target universities there when a kind friend of mine – with whom I was labmates during my Master's studies and who had started a job at the Research Center Pharmaceutical Engineering (RCPE) at that time – sent me a link to a PhD position at TU Graz. It was honestly the first time I had heard about this city and the university, too. The project was of high interest to me as it was closely related to my Master's project, and as I explored the research group on the TU Graz website, and the Caliper ITN project, I set my heart on joining this PhD programme.
Are you interested in a research stay at TU Graz? On the TU Graz website you will find an overview of options for funding your research, and information about doing research, working and living in Graz.
Research abroad: arriving in Graz
I arrived in Graz on a rainy autumn evening, and exactly the next morning, I was warmly welcomed at the Welcome Center. I was familiarized with the city and was guided to easily do all the initial bureaucratic and administrative steps. Starting with this first positive impression, this new chapter of my life in Graz has provided many great experiences which I know I will appreciate and remember.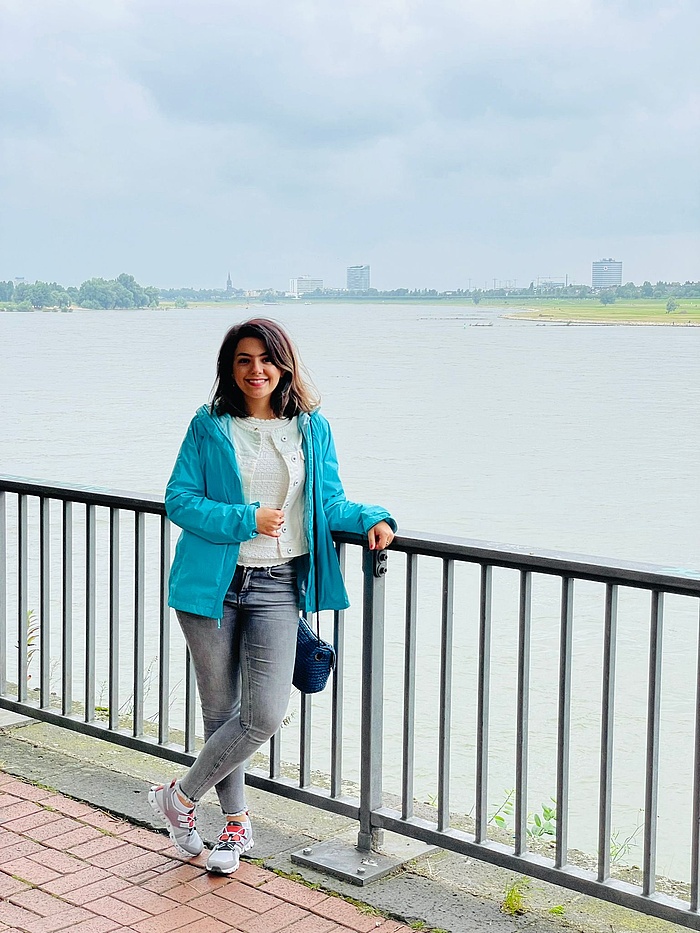 By the Rhine riverside during a trip to Düsseldorf, Germany. © Nazanin Ghods
Working at TU Graz as a PhD student
So far, I have had a great working experience at TU Graz with all my local and international colleagues and students. Even on busy days, I have always tried my best not to miss the enjoyable coffee times, having lunch in front of Campus Inffeldgasse, and sometimes the pleasure of having a cup of tea on the roof of the Inffeldgasse 13 building with the picturesque view of the Schlossberg and Herz-Jesu Kirche (the Church of the Sacred Heart).
On the TU Graz website you can find out more about the three campus locations of TU Graz. Click here for a virtual campus tour.
In love with the green city of Graz
Although the city is much smaller than and quite different from the megacity of Tehran, where I come from, it's very charming. The people are very kind and there is always a new, amusing attraction to explore every weekend. Nature in Austria is truly captivating. You cannot resist loving the green city of Graz, with the lively Mur river flowing into its heart, being surrounded by many fantastic hiking opportunities, beautiful lakes, and vineyards. A large portion of my stay in Graz was during the pandemic. However, as soon as we came back to the pre-pandemic life, the Welcome Center restarted organizing many social activities (sometimes a bit adventurous – like the adventure park, sometimes relaxing and calm, such as a picnic in Schloss Eggenberg). All in all, there is nothing to complain about here in Graz.
If you want to read more about life in Graz, Austria's second largest city, read the blog post of Sara Krak, electrical engineering student at TU Graz.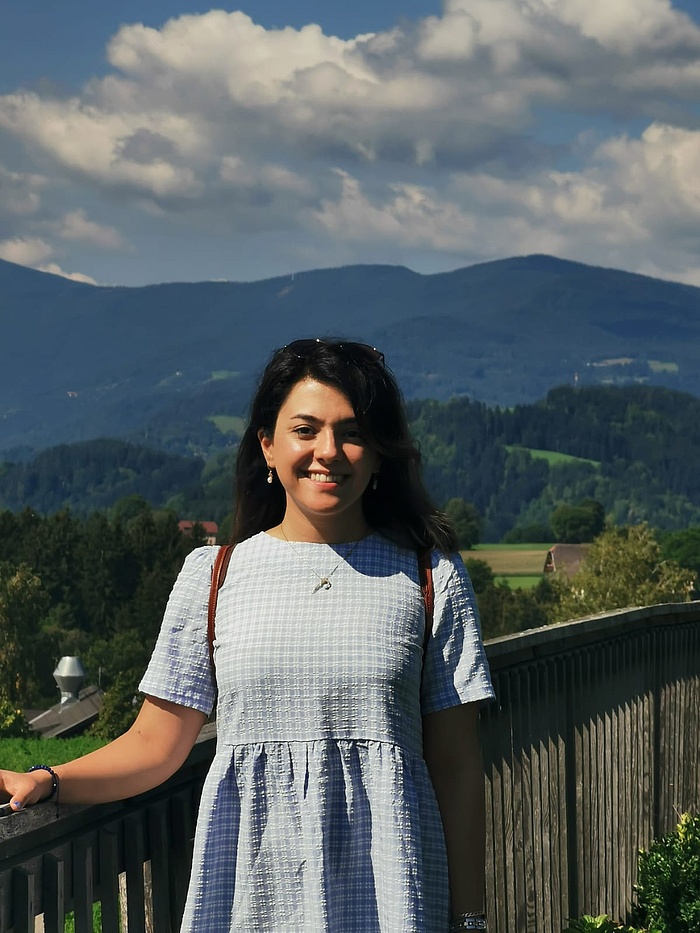 Visit to one of the loveliest vineyards in Carinthia, Austria. © Nazanin Ghods