News+Stories: You develop and build a rocket every year in the Aerospace Team Graz (ASTG) to compete in international rocket competitions such as the European Rocketry Challenge (EuRoC). What benefit do students gain from this?
Georg Witzlinger: As a student association, we offer a platform where students can further their education. We implement projects as a team. We immerse ourselves in the subject because it's so fascinating and cool, and at the same time – starting from the technical side – we learn soft skills, team leadership, how to build a team and run a project from start to finish. We apply our theoretical knowledge from university in a practical way.
How long have you been fascinated by space?
Georg Witzlinger: When I was a child, I loved looking at the stars. I never got a telescope, but there was also a lot to see with the naked eye and I was fascinated. But I just forgot about it over time and didn't think it realistic that I could do anything in that direction at all. The idea of becoming an astronaut is very far away after all. But the fact that there are so many opportunities to work in the field of space science was not a reality for me. When I heard about the team, I thought to myself: "Yes, perfect, that's just for me, I have to join in right away".
Have you always wanted to study something related to space?
Dorothea Krasser: I am studying for a Bachelor's degree in physics. In secondary school, physics interested me right from the beginning, but especially from the upper school onwards – and then studying it was a given choice. I was more interested in space from a physics point of view.
Georg Witzlinger: Before studying mechanical engineering, I did my HTL in Steyr in the department of mechatronics and precision engineering. I have always been fascinated by technology. As a child, I loved playing with Lego Technic and building and developing everything that had to do with gears. It was kind of obvious that I would go in that direction when I started university. But I wasn't thinking of space.
How did you come to Aerospace Team Graz?
Dorothea Krasser: I always wanted to be part of a student team and in the third semester during the Covid pandemic I decided that I would join the ASTG.
Georg Witzlinger: I came to TU Graz because Graz is very small in relation to Vienna – that would have been the alternative – and I come from a farm in the middle of nowhere. I didn't want to move to the biggest city in Austria straight away. At the Welcome Days, the introductory days at TU Graz, all the TU Graz student teams presented what they do. The TU Graz Racing Team in particular was already very well known, but racing cars weren't really my thing. The Aerospace Team didn't yet exist. So when I heard in a lecture about a new team that wanted to build rockets, it was the perfect field for me, and by the end of 2019 we had successfully founded the association.
IIn student teams, TU Graz students are putting their expertise into practice – on a voluntary basis. They develop racing cars, compete in regattas with a concrete canoe or translate innovative business ideas into start-ups. On the TU Graz website there is an overview of all student teams.
How many people work together in the team and from which fields of study?
Dorothea Krasser: At the moment there are about 75 of us from 18 fields of study at Graz University of Technology (TU Graz), the University of Graz and the two universities of applied sciences in Graz. Many of them are from the fields of physics, mechanical engineering, electrical engineering, information to computer engineering, computer science and software development.
Georg Witzlinger: Basically, though, it's not so important what someone studies if you're fascinated by rocketry. We are open to all fields of study.
You can find an overview of all degree programmes at TU Graz on the TU Graz website.
What has been your most exciting moment in the team so far?
Georg Witzlinger: There are a lot of them, but the really decisive, most exciting moment was when we competed for the first time at the European Rocketry Challenge 2021 with the AVES rocket in Portugal. I was the leader of the project at the time and yes, the ten seconds before launch were really nerve-wracking.
What was that about? Whether it would start or not?
Georg Witzlinger: Exactly. Whether everything was working. Five days before, the tension was already immense. We were still working on some things, fixed some problems, just before the launch, it wasn't certain whether we'd get permission to launch. The fact that we were allowed to launch our rocket on the last day was really exciting.
Dorothea Krasser: I have to agree with Georg. I was there too and it's just the first time you launch the rocket, it's all so new. You don't know what's going to happen, how it's going to go, whether everything will be OK.
Witzlinger: The launch of AVES II was also very exciting, but 2021 in Portugal was the first time.
How successful had you been in student competitions up to that point?
Georg Witzlinger: Up to then we'd participated twice in a student competition. The European Rocketry Challenge (EuRoC) has been around since 2020. It takes place in Portugal every year in October. The launch of AVES 2021 was our first ever attempt to make a rocket for a competition. AVES is Latin for bird. We developed the rocket in four months and won the Technical Award with it. The Technical Award is given for the best technical documentation of the project. Each team must deliver a report before the competition describing all the technical systems and explaining how the team came up with the solution. And there we were the best right away.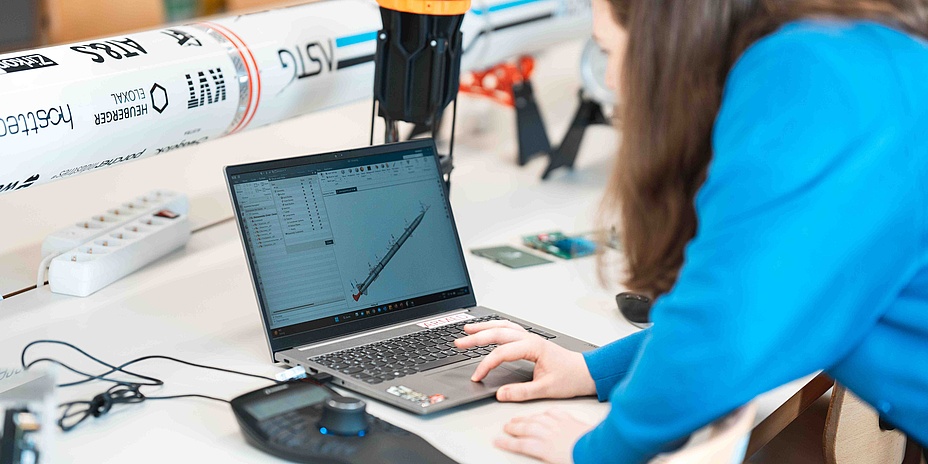 When they competed for the first time at the "European Rocketry Challenge (EuRoC)" in Portugal, the team took home the prize for the best technical documentation right away. (Photo source: Rome – TU Graz)
That was motivating, then came the next competition?
Dorothea Krasser: We decided right after the first attempt to try again the next year. So we developed AVES II for this purpose. Everything we learned from AVES we implemented in AVES II. We were able to win two awards at the EuRoC 2022. So there was the Team Award for the best performance as a team, the best communication with the competition officials, the best competition organisation, and the best sportsmanship in the team. For the other prize, the New Space Award, you have to deliver a sales pitch. You are effectively a fictitious satellite launch provider and have to sell yourself as the best. We sold ourselves the best.
How many of you were there in 2022?
Dorothea Krasser: At the EuRoC 2022 there were 30 of us.
Do you need so many team members at the event?
Georg Witzlinger: Mostly yes. The advantage is that if you have more people, the work can be divided up better in the team. The EuRoC competition lasts eight days. Basically, there is something to do all week. At the beginning, the team displays the rocket, presents it to all the other teams and interested parties. It's like being at a trade fair. Each team has its own stand. On the other days, the rockets are launched one after the other. Before the launch there are safety checks where the organizers check whether all safety precautions are being observed.
I imagine testing the rocket before the competition is not so easy. How and where do you test it?
Dorothea Krasser: We have never managed a test flight yet, because it is very difficult to get insurance for this in Austria. At 33 kilograms, the rocket is too heavy for model rocket insurance and without insurance it is difficult to launch. We only test it in parts. For example, we have just tested the function of the flight computer with vacuum chamber tests at TU Graz. We built our own vacuum chamber for this purpose. We test the propulsion at a sponsor's – a pyrotechnics company. They have suitable grounds for it.
Georg Witzlinger: We test all the subsystems individually, sometimes even the individual components, then we take a further step into the higher-level components and so on upwards. The final test, the optimal test, would of course be a flight test. Unfortunately, this has not been possible until now.
That means the first flight is actually at the competition?
Georg Witzlinger: It has been so far, yes.
Which rocket will you use for the next challenge, AVES III?
Georg Witzlinger: No, we switched to a new propulsion system this year, a hybrid system – a mixture of solid and liquid propulsion – so we also wanted a new name. It's a species of bird that flies and dives into the water.
Dorothea Krasser: The new name is Halcyon. This is Latin again and stands for the great northern diver. Like AVES II, Halcyon will have a diameter of 15 centimetres. The length may still vary, it is still in development. AVES II was three and a half metres long. We start with Halcyon at the EuRoC in October 2023.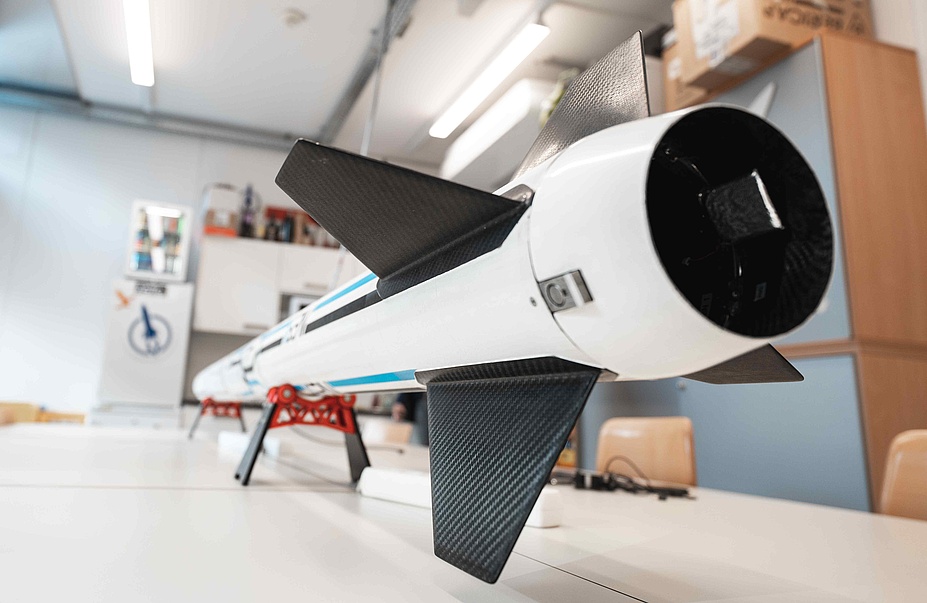 The AVES II rocket (pictured here) is followed by Halcyon (Latin for the great northern diver) a new model with hybrid propulsion. (Photo source: Rom – TU Graz)
What is your goal for the European Rocketry Challenge 2023?
Georg Witzlinger: As in the last two competitions: to deliver as well as possible. We want to make the technical documentation as perfect as possible. Not only for the competition, but also for the team internally, so that everyone can benefit in the future from the knowledge we have now. In addition, there is another major goal. The last two rockets took off successfully at the competition but crashed on landing for different reasons. We have learned from this and this year it's definitely our goal to have a successful take-off plus landing.
How much time do you invest in the work of the student team?
Georg Witzlinger: Too much (laughs). At peak times, I invest up to 80 hours per week as a team leader, but otherwise maybe 20 or 30 hours on average. However, we have a philosophy in the team that it must still be possible to study despite commitment to the team. Of course, this prolongs the study programme.
Why do you do it nevertheless?
Georg Witzlinger: Because it's so exciting. Because I can gain experience in the field of rocketry. Because I meet people who have the same fascination for it. I can try myself out as a manager and make additional contacts with companies.
Dorothea Krasser: I learn so much in the team that I don't even notice in my studies. And the experience is simply priceless.
What are your plans for the future? Something along the lines of space science?
Dorothea Krasser: I will soon finish my Bachelor's degree and then I want to study Space Science and Earth from Space because it is more space-related than physics. I think that I'll also continue in this direction professionally.
Georg Witzlinger: I'm also just about to finish my Bachelor's degree. After that, I'll continue with a Master's degree in Mechanical Engineering and Business Economics at TU Graz. Later, I would like to go in the direction of space exploration. There are many companies in Austria and in Europe in general that offer opportunities. Aerospace is a rising sector of the economy, in which there will be a lot of jobs in the future. I'm optimistic that the right thing will present itself.