Light and at the same time cozy, for both indoor and outdoor use, sustainably made from solid nut wood and hemp rope, and at the same time elegantly shaped – welcome to the HIAS lounge chair. With its quality of design, implementation and execution, it scored highly at the Austrian-wide design award, which was conferred for the first time in the fields of product and interior design of the furniture and woodwork cluster of the Upper Austrian location agency Business Upper Austria. The trade network which also organises the specialist trade fair 'möbel austria' is extremely happy with the 313 submissions in 18 categories.
Students design furniture
HIAS came about as part of the 'amm – architektInnen machen möbel' label ('architects make furniture'), under which TU Graz architecture students do what the name says: i.e. make furniture. 'amm' was initiated by Irmgard Franck at TU Graz's Institute of Spatial Design in the context of the Furniture Design Production course and has been successful for years with its design ideas and implementation. 'We have discussed, revised and improved the HIAS in the amm team since Matthias Hierzer designed it in the 2017 summer semester," says Judith Augustinovic, who leads the course together with Rainer Eberl, explaining the production of the piece. HIAS was exhibited at the Venice design festival Design.ve.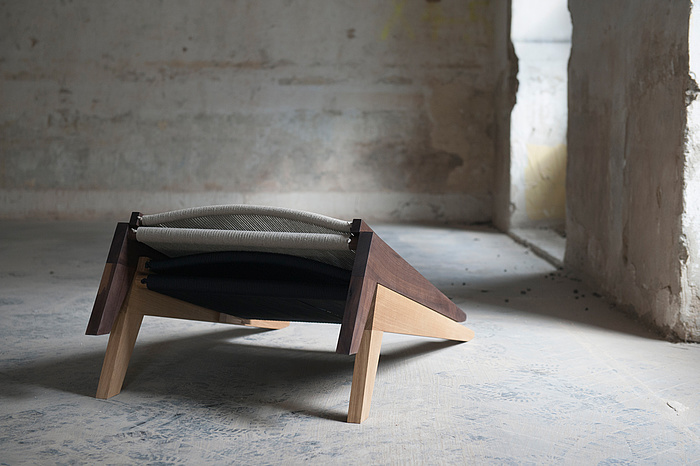 ... and can be easily stored or transported when folded.
Label ambassador in Bali
Irmgard Frank accepted the Austrian Interior Design Award 2018 on 20th August in the harmonious atmosphere of Salzburg's Museum der Moderne on behalf of Matthias Hierzer. The latter was on his way to Udayana, Bali, Indonesia for his semester abroad studying South East Asian Architecture while at the same time establishing international contacts for the label as an ambassador for 'amm goes global'.