Having passed their school leaving examination qualifying them for university entrance, the world is virtually completely open to school graduates. Often it is very difficult to make the right decision: there are just so many opportunities available. And today, more so than ever. But even when I finished school at BG
Lichtenfels
in
Graz
back in 1976, it was like this. Chemistry, medicine or engineering sciences – it would be one of those, this much I knew. But which one should I choose? While I was serving in the army, I found the time to look more closely into these three professions and possibilities they offered, and in the end I knew as clearly as anything what I wanted to do: plan big bridges, build dams and high-rise buildings. So I registered for civil engineering at
Graz
University of Technology. It was to be the beginning of a deep connection.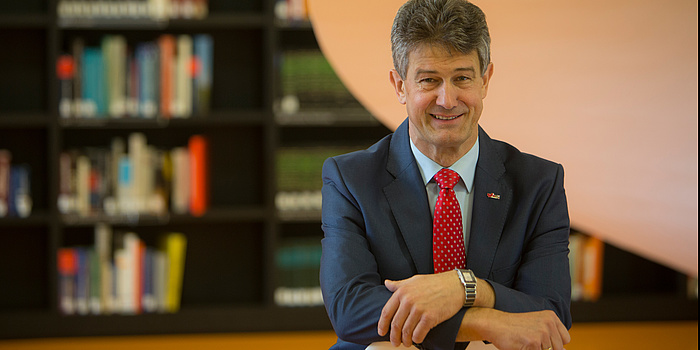 Harald Kainz, rector of TU Graz, in the university's library.
The course of studies was characterised by the strong communities that evolved in the technical drawing rooms of the University. To this day, they are highly popular and a unique landmark of TU
Graz
. Students from various specialties run and administer these special "institutions" themselves autonomously. For this purpose, they get allocated premises from the University, and this is then where they study together, cook together and exchange information. In this way, strong networks are created from a young age onwards. One other thing that was striking in my university years was the intensive ties with the construction industry. Almost all students would have a regular job in summer and perhaps even during the year, working for various companies. Of course, these jobs together with a relatively free way of arranging one's course of studies led to significantly longer university study times than we have now. The contact with the companies, though, had a very positive effect. It meant that the purpose of many technical and economic questions at the University was easier to understand for us. These jobs in the construction industry showed me early on while I was still at the University how important economic and legal concerns are when it comes to acquiring orders and carrying them out successfully. This is why I decided to register for a second course of study in business economics at TU
Graz
, pursuing this very intensively, too. Despite all my studying at the University and working for various building firms I still found sufficient time to make use of the rich offer of USI
Graz
, the University Sports institute. Three to four times a week I went up the hill to the "
Rosenhain
" in order to attend the legendary gymnastics classes given by Professor
Ruggenbauer
. I also played volleyball and soccer. Lots of hours were also spent playing tennis at
Geidorfgürtel
in the place where the
ReSoWi-Zentrum
of
Graz
University is located now. Getting joy out of doing exercise and sports is something which, to this day, has remained important to me. One very particular orientation for me was the examination in urban water management. Having done the examination, I took on an offer made to me by Professor
Ernst Nemecek
as a study assistant. Thus, all of a sudden, the focus of my university studies was no longer on concrete technology and pre-stressed concrete, but was shifting in the direction of chemistry, microbiology, process engineering, groundwater protection, land and water management. Taking up this post turned out to be a major stroke of luck. In fact, I am still fascinated by the broad range and interdisciplinarity of Urban water management and landscape water engineering.
In 1990 I completed my university studies and, having graduated, moved to Munich in order to work for a medium-sized engineering office. Two years later I took over the management of a big Austrian engineering office in Vienna, a job which allowed me, for 8 years, to be responsible for the planning and execution of some of the largest environmental projects in Europe.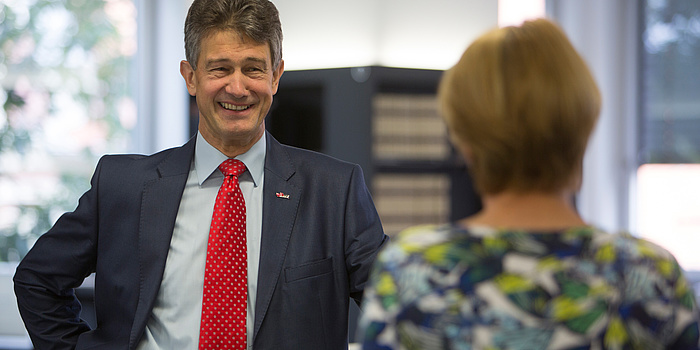 Harald Kainz has been rector of TU Graz since 2011.
After 10 years away from the University I was happy to return to TU
Graz
to become a professor and head the Institute of Urban Water Management and Landscape Water Engineering. Self-determination in research and the wonderful collaboration with gifted young people for me are the two most beautiful reasons that led me back to TU
Graz
. Meanwhile, I have been back for 15 years, working for and promoting TU
Graz
first as an institute head, then as dean, vice-rector and, since 2011, as Rector of one of the world's most magnificent universities. My joy in research and looking after students has meanwhile given way to the enthusiasm to co-shape the future of the University.
A particular concern to me are the student teams. They excel internationally in competitions of all kinds, ranging from robotics and neurotechnology to engine development. Due to their deep-rooted interest and commitment going far beyond what is deemed "required", the teams have earned my deepest respect. In the years to come, the Rectorate will continue to strengthen and expand its efforts to further support the teams. I am convinced that the team members of today will be the entrepreneurs of tomorrow. Over the last 20 years, and in particular since 2004 when the new University Act was passed, TU
Graz
has developed into a major motor and partner for science and industry far beyond the borders of Austria. The multiplication of the research volume together with the number of publications and 2,000 newly created jobs speak a language of its own. The intensive national and international cooperation projects, profile development in research with the help of our Five Fields of Expertise, and the process of internationalisation will propel TU
Graz
even further forward.
A strong management team for TU Graz: (from left) Claudia von der Linden, Detlef Heck, Andrea Hoffmann, Harald Kainz and Horst Bischof.
"Science, passion, technology" – this is the slogan of TU
Graz
. These three words are an unbeatable triad which I can no longer imagine being without. For me, it is both a great honour and a great joy to have the privilege to chair this University. Whether you are interested in a course of study with us, in a research association or a cooperation: let me cordially invite you to come and get to know us. Make your own picture of my own cherished TU
Graz
.