Every year, the Institute of Chemical Engineering and Environmental Technology of TU Graz in cooperation with the Yokohama National University organises the International Summer School on PEFCs, at which teaching staff from six different countries help students and researchers to further develop their skills in the fields of fuel-cell and hydrogen research.
I began to work here at the Institute at the end of my Chemistry studies and did my diploma thesis on the development of catalysts for fuel cells. As a pioneering technology for energy production, fuel-cell technology has so captivated me that I'm currently doing my doctoral degree in this field.
Summer programme in Graz and Yokohama
Colleagues had told me about the one-week seminar which takes place in Graz and Yokohama (Japan) alternately. Everyone enthused about how great it was to travel to Japan and to get to know a new country and a new culture while at the same time developing oneself academically. I became immediately fired up. When do you ever get the possibility to take part in a course like this? While I was planning my journey, the question soon arose of how I could finance myself. The office for International Relations and Mobility Programmes of TU Graz offers a scholarship for summer schools and academic courses abroad. This covered part of my travel costs.
Everyone enthused about how great it was to travel to Japan and to get to know a new country and a new culture while at the same time developing oneself academically.
Full of joy and expectation, I was soon travelling to one of the leading technology nations in the field of fuel cells, where we – other course participants and myself – were welcomed by the extremely friendly and warm-hearted Japanese culture. On the first day after our arrival, on a hot and humid day, the summer school began at Yokohama National University in a well cooled seminar room. In addition to various lectures, the course also offers the possibility for a unique inter-cultural exchange at the highest level with experts – something which is really fun. General content about fuel cells is presented as well as very subject-specific topics and experimental methods so that pretty much every discipline benefits – from chemistry to physics to mechanical engineering.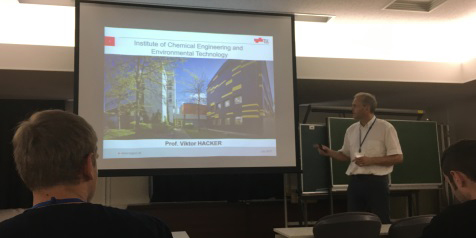 International Summer School on Advanced Studies of Polymer Electrolyte Fuel Cells – a meeting of experts and students.
In addition, there were lectures on hydrogen production and an extremely interesting tour of the Chiyoda works on the programme. One of the highlights was the poster presentation by the students. After this exchange about individual research core areas, there was a get together in the form of a sushi party – and the traditional Japanese delicacy was not to be left out. The Japanese hospitality was really phenomenal. This event was made use of for everyone to get to know each other and for cultural exchange.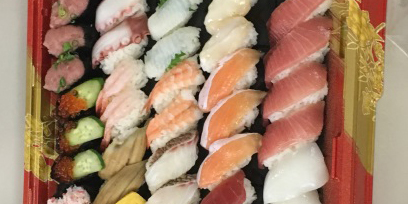 Traditional sushi was not to be left out.
The summer school programme in Japan was rounded off with a test drive in a fuel-cell car – a Toyota Mirai. As a successful end to the final week, our newly won friends organised an additional 'must do' in Japan: a hiking tour on the country's highest mountain – Mount Fuji. After two challenging days of hiking (including an overnight stay in a typical Japanese mountain lodge), we reached the peak. Sadly we weren't able to see the famous sunset due to bad weather. Nevertheless we were all proud that we had scaled the 3,776 m peak. But during the descent we were lucky enough glimpse the sun coming out from behind a thick sea of clouds and could enjoy a marvellous view of the country.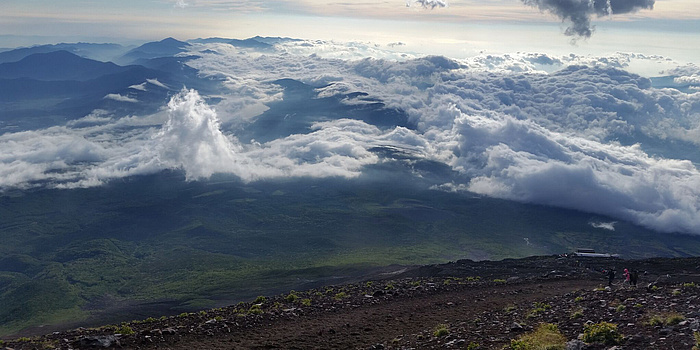 Peak victory on Mount Fuji.
This summer school represented an extremely valuable experience in my education. The thematic areas offered covered all the worthwhile and open questions from electrochemical foundations to engineering issues. In addition to numerous discussions with internationally renowned researchers and the professional training, the spotlight was on the cultural exchange which this journey made possible. After the summer school, I spend another two weeks in Japan and got to know Tokyo, Kyoto, Hiroshima and Osaka.