"Would you print out this prescription?" In the future, pharmacists could hear this question more frequently and could react in a different way than we would expect today. Instead of handing the patient a pack of tablets over the counter, the pharmacist could load a cartridge filled with a drug solution into an inkjet printer. Patterns of the medication would be carefully printed on a paper-like film made of starch or other digestible materials, which dissolves in the mouth and releases the active substance.
Tailored drug therapies
According to experts at the Research Center Pharmaceutical Engineering (RCPE), this drug printing technology is not that far removed from reality. In the research project "MediPrint", researchers in Graz have laid the foundation for the first commercial drug substance printing system with a companion chemical imaging system to assess identity, quantity and distribution of the printed drug substances. Together with researchers at TU Graz and the University of Graz, they were able to dispense an extensive range of fluids, from aqueous drug solutions to viscous polymer coating materials, and have demonstrated printing of a wide range of formulations for patient-ready, orodispersible drug dosage forms.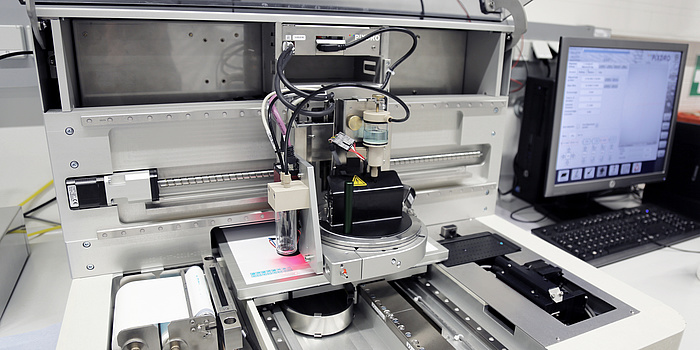 The state-of-the-art functional inkjet printer at the RCPE.
"The printing technology allows us to dispense low volumes of drug materials with precise spatial control. Using a strobe imaging system to measure the ejected drop volume at-line and combining that to the known drug solution concentration, the actual drug content of every single printed film can be estimated to a high level of accuracy," says Wen-Kai Hsiao, current leader of a follow-up project aiming to develop the technology for rapid and flexible clinical drug supply for a major international pharmaceutical company. "Depending on the inkjet system used, a single drop of drug solution can be as small as 7 picolitres (7 x 10-12 liter). Therefore, the inkjet process is capable of printing and tailoring precise, minute doses." As part of the first fully industrially funded inkjet drug printing project, the team at RCPE has a state-of-the-art functional inkjet printer which is able to scale up the printing throughput significantly at industrial-level reliability. Sven Stegemann, in charge of the Patient-Centred Drug Development and Production Technology research group at the Institute of Process and Particle Engineering at TU Graz, is a key researcher in the current project and responsible for the patientcentric aspects of the drug printing applications.
Revolutionizing healthcare
One of the key advantages of the printed drug film approach over the conventional drug dosage forms such as tablets and capsules is that it could be used to tailor doses according to age, size and gender, i.e. personalized medicine. In particular, the technique will enable the provision of tailor-made and personalized dosage forms for individual patient needs on demand. Another benefit would be, just as a colour printer can print more than one colour of ink, inkjet printing can deliver many different drugs onto one film with ease. This means that pharmacists – together with the physician in charge – can decide on the most suitable dosage strength and drug combination required for successful treatment. Furthermore, for children and elderly patients with swallowing issues, a printed drug on an orodispersible film can be a highly attractive dosage form. Due to the ability to precisely dispense drugs, this approach could be more environmentally safe, for example through energy saving and less waste generation, and provide better containment of highly potent drugs during production.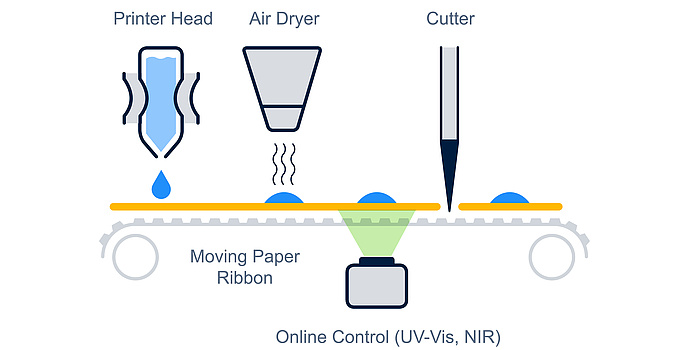 Schematic diagram of the drug printing process with an integrated quality control system.
Challenges along the way
The next objective for the researchers is to deliver a Standard Operating Procedure (SOP) by the end of 2017, and, in due course, to attain GMP certification for the equipment and process in accordance with international standards of drug production. "Despite the potential benefit of inkjet printed drugs, quality control and translation into industrial practice remain challenging," says Wen-Kai Hsiao. Other challenges include drug compatibility and patent compliance. "Formulating an ink which maintains the efficacy of the drug formulation while allowing reliable inkjet printing is far from trivial, and there is no universal solution – an ink formulation which works for all inkjet printers or a printer which works with all ink formulations," explains Wen-Kai Hsiao.
Although technical and regulatory hurdles remain, this technology may be especially applicable to individualized medicine. In the future, a patient's genetic profile may be used to predict a specific drug treatment, which could then be produced and dispensed on-demand by an automated system incorporating this inkjet technology.