Internship abroad despite corona crisis: At Nedstack B.V. in Arnhem, the Netherlands, TU Graz student Niklas Mayr further developed analytical measurement methods for fuel cell research. Here's his report.
I'm a student in the master's programme in chemical and process engineering at Graz University of Technology (TU Graz). Despite the crisis caused by corona, I took up an offer from Nedstack fuel cell technology B.V. in Arnhem last summer and started a two-month internship in the development department.
From student job to internship abroad
How did the internship come about? I have been working for two years as a student assistant at the Institute of Chemical Engineering and Environmental Technology (CEET) at TU Graz in the research project KEYTECH4EV of the Austrian Climate and Energy Fund. The project showed that the combination of battery and fuel cells can significantly reduce drive system costs compared to pure fuel cell systems as well as pure battery solutions and at the same time better meet requirements for efficiency and driving behaviour.
Tip 1: Working at your university alongside your studies is definitely an enrichment. You can immediately apply theoretical knowledge in practice and the work is usually compatible with your studies – after all, your supervisors are doctoral students who can usually well remember their studies themselves.
During a workshop on fuel cell systems at TU Graz, project manager Viktor Hacker introduced me to Merit Bodner, a graduate of TU Graz. She is head of the fuel cell laboratory at Nedstack B.V. We exchanged contact details and discussed possible projects for an internship the next day. Due to the corona travel restrictions, my job interview took place on Skype.
Tip 2: If you are working as a student at TU Graz or another university, just ask your tutors if there are opportunities for an internship abroad.
Intern looking for accommodation
Finding an apartment in Arnhem also turned out to be relatively difficult due to the corona situation, but I finally found a room in a nice flat share via a Facebook group.
Tip 3: The easiest way to find a room in a shared flat or apartment as a student in the Netherlands is from Facebook groups. The only difficulty is to find good groups, because some of them are hidden agency sites. A colleague at work kindly sent me a list of groups.
Arrival under COVID-19 conditions
Based on the recommendation of the Austrian Embassy in the Netherlands, I travelled by train. On the way to Arnhem I made a small stopover at friends in Innsbruck. From there I travelled via Frankfurt and Düsseldorf to Arnhem by ICE. The transit through Germany and the entry into the Netherlands went without any problems. Deutsche Bahn was even on time and I had a pleasantly uneventful journey. As the situation in Europe had stabilized quite a bit by the end of June, no home quarantine was necessary in the Netherlands.
Internship in the fuel cell laboratory
Nedstack B.V., a spin-off of AkzoNobel N.V., has been active in the hydrogen sector for more than twenty years with polymer electrolyte membrane (PEM) fuel cell solutions. In this process, chemical energy is converted into electrical energy by so-called "cold combustion", which means that hydrogen is oxidized with oxygen to water. Nedstack B.V.'s product range includes fuel cell solutions for maritime, stationary or mobile applications, such as transport ships, energy storage or refuse collection vehicles.
The heart of all fuel cell systems is the fuel cell itself. Since the voltage of a cell itself is only about one Volt, several cells are combined into so-called "stacks" depending on the power required. A ten kilowatt stack is illustrated in the photo. This facilitates maintenance and of course also provides mechanical protection, as the fragile cell membranes are protected by a robust housing.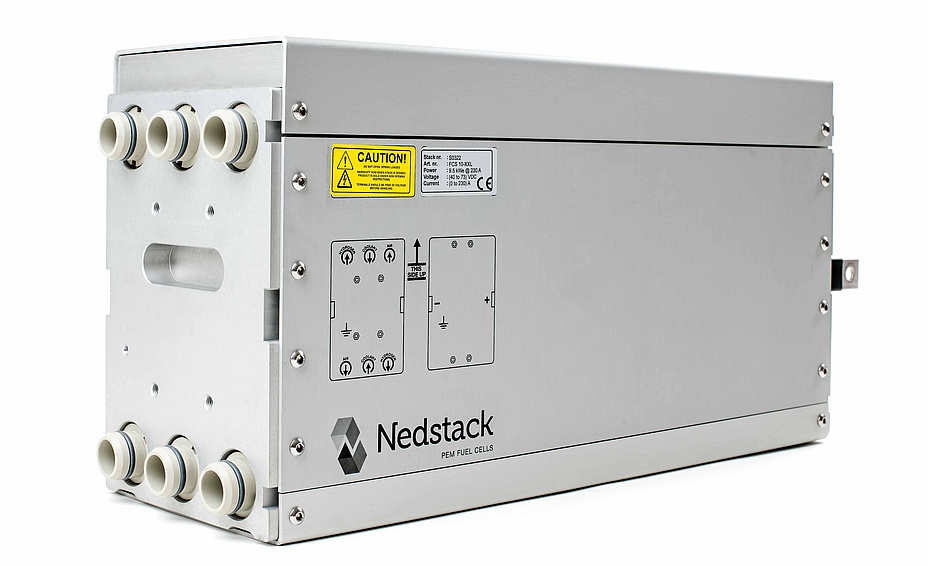 An example of a ten kilowatt stack for stationary energy buffer systems.
What I particularly liked about my internship was the opportunity to design, implement and then test different approaches to solving a problem. In the course of the internship I revised some of the analytical measurement methods. This accelerated not only the measurements themselves but also the data evaluation. Personally, I learned above all how to organize projects, i.e. how to make orders, present ideas in the company and then implement them together with colleagues.
Apart from that, I appreciated the – as I suspect – typically Dutch openness in the company and felt welcome from the start. Even now I'm still in regular contact with my office colleagues.
Arnhem – personal impressions
Arnhem is a very liveable city of 100,000 inhabitants and is internationally known for the battle for its main bridge in World War II, which was filmed in "A Bridge Too Far". With a large concert hall, extensive running and cycling routes (which goes without saying in the Netherlands), open-air and indoor swimming pools as well as a modern boulder hall and spacious swimming bays on the Lower Rhine, it also offers an impressive range of leisure activities. I was able to borrow a racing bike from a nice work colleague and thus explore the nearby national parks Veluwezoom and Hoge Veluwe.
Within a radius of less than one and a half hours by train, there are also three world cities – Utrecht, The Hague and Rotterdam – that are definitely worth a visit. In general, the public transport network in the Netherlands is impressive. There are express trains to said cities every 15 to 20 minutes and a "universal ticket" that allows you to use all trains, buses and public bicycles throughout the Netherlands. Despite corona I made some weekend trips and "enjoyed" at most half occupied dormitories in the hostels.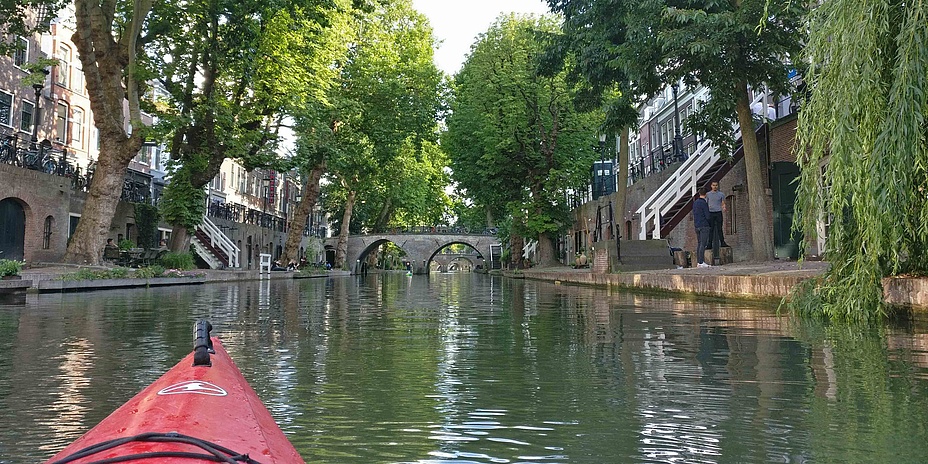 During his internship abroad TU Graz student Niklas Mayr also visited Utrecht, Netherlands.
Living in the Netherlands in the time of COVID-19
All in all – apart from the somewhat more complicated organization and the unfamiliar arrival by train, a strict compulsory use of masks on public transport and guest lists in the restaurants – life in the Netherlands took its normal course for the most part.
Tip 4: Good and above all comprehensible (language barrier) information on the current COVID situation abroad is provided by the respective Austrian embassies.
My internship experience – summary
Doing an internship abroad was definitely a valuable experience, which I probably would not have had without working at TU Graz. Establishing contacts at a conference personally is certainly a better way than sending impersonal applications.
I definitely missed my friends during the two months, especially because travelling was very difficult due to COVID-19. Private video conferences and a sailing trip with friends on the Baltic Sea after the internship were very helpful.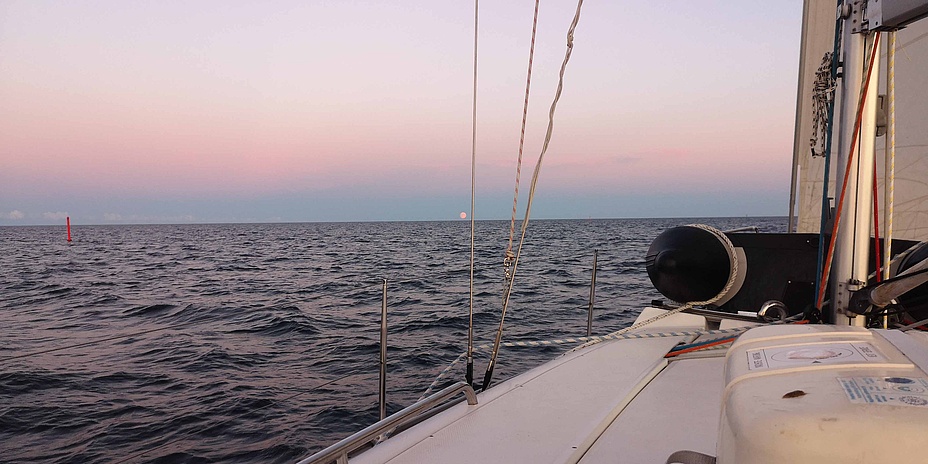 Sonnenuntergang bei Møn auf der Ostsee.
Blog start page