How did Graz become a city of design? Let's take a look at some facts about Graz first. Graz is the second-largest city in Austria and the state capital of Styria. It is known as a student city and has four universities, two teacher training universities, two universities of applied sciences and some 60,000 Students from all over the world.
For more insights into the city of Graz, read the posts of my TU Graz International Student Ambassador colleagues Sara Krak "Graz city life" and Gergö Horváth "Graz, a student's city with a cozy and friendly vibe".
In 1999 the historic center of the city was added to UNESCO – in 2010 this was expanded to include the western part of the city. In 2003 Graz was officially named European Capital of Culture. With this step, Graz dedicated itself to preserving the historic heritage of a diverse building culture from the Gothic period to the 21st century. Part of this is its extraordinary historic roof landscape, characterized by tiled roofs. Modern architecture thus has to be sensitively integrated into the field of tension between old and new. Since March 2011, the city has been part of the UNESCO Creative Cities Network as a City of Design. By the way, Graz is thus committing itself to the Sustainable Development Goals of UNESCO, which all Cities of Design recognize.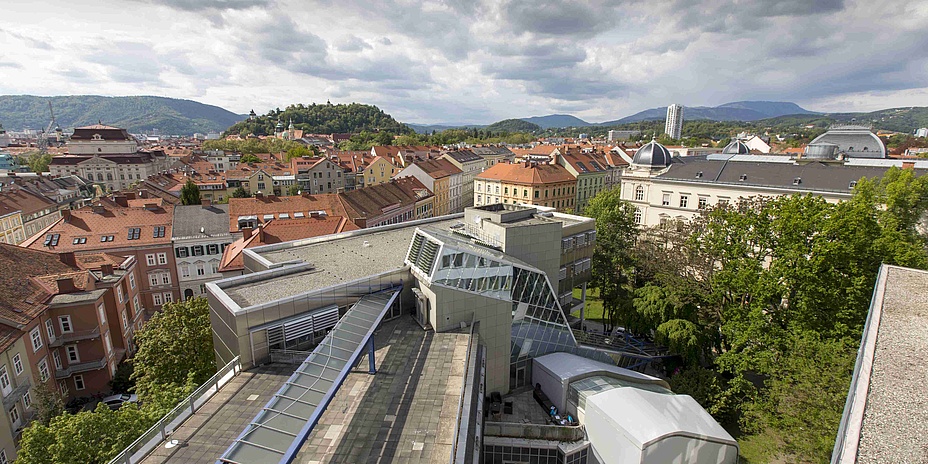 View from Campus Alte Technik over the roofscape of Graz with the Schlossberg. © Lunghammer – TU Graz
But what about creativity?
Architecture, art and design have contributed a lot to differentiate Graz from other cities and make it popular and attractive for tourists at the same time. Buildings such as "Kunsthaus Graz", "Stadthalle" or the iconic "Island in the Mur" reflect the beauty and uniqueness of the city.
The huge number of museums make permanent exhibitions in different genres and various topics possible. Age is not a barrier to visiting an exhibition – the children's museum "FRida & freD" offers exhibitions for the entire family as well as a range of workshops and events during the holidays.
However, one of Graz's most iconic and major buildings is "Kunsthaus Graz". The exhibition center shows contemporary art from the 1960s up to the present. It also provides space to discuss current social issues, combining global with regional trends. Its form and shape as well as its controversial design enhance the uniqueness of the city. Kunsthaus has become a major feature for international tourism.
Design Month Graz – a stage for creativity
Every year in spring "Design Month Graz" offers a diverse programme of workshops, lectures, meetings, presentations and exhibitions. In this month, art can be seen on every corner of the city.
Design Month Graz provides a space for various projects and highlights design initiatives from local and international artists, institutions and individual initiatives. Local design training institutions, universities and business enterprises work together to place art at the focus of attention.
In 2022 "Design Month Graz" takes place from May 7th to June 12th, 2022.
Each year, there is a focal point and this year's programme focuses on the Green Transition. In this regard, the creative sector can play a huge role. Design Month Graz offers a perfect space in which new ideas can be unfolded and shown to the public – ideas and contributions that lead towards a sustainable future.
The design festival underlines the importance of design for everyday life and its economic relevance. It offers an opportunity for further development and allows the art of design to be approached in different ways.
Delving deeper into architecture: studying at TU Graz
When all is said and done, studying architecture in the city of design at Graz University of Technology (TU Graz) would be an architecture student's dream, right? For me, this dream came true.
After studying interior design for more than two years in my home country Kosovo, I wanted to delve deeper into architecture and decided to study at TU Graz.
In 2020 I enrolled in the Bachelor's degree programme in Architecture at TU Graz and currently I'm finishing my fourth term.
One of the best places to study architecture abroad
Studying architecture and experiencing it at the same time makes the whole process pretty enjoyable. Starting from old and historic buildings to the most controversial and futuristic buildings, you get the chance to study and learn from them in person.
13 institutes are involved in teaching architecture at TU Graz. Each of them has a different focal point and offers a varied programme of seminars, workshops and practicals.
All courses are very practice-oriented and give you the chance to develop new skills through different teaching methods. In my studies, right in my second semester, I got the chance to participate in the exhibition "Annenstraße 53" at the Institute of Contemporary Art (IZK) at TU Graz while attending the course "Visual and sonic practice". It was a very helpful experience and helped me develop new approaches to art and architecture.
TU Graz is also known for its "Zeichensäle" (Drawing Studios) which are spaces where architecture students work together and support each other. I'm lucky enough to be part of the architecture drawing studio "AZ Turm" and since I've been a member of it my creativity has increased significantly as well as my performance in general.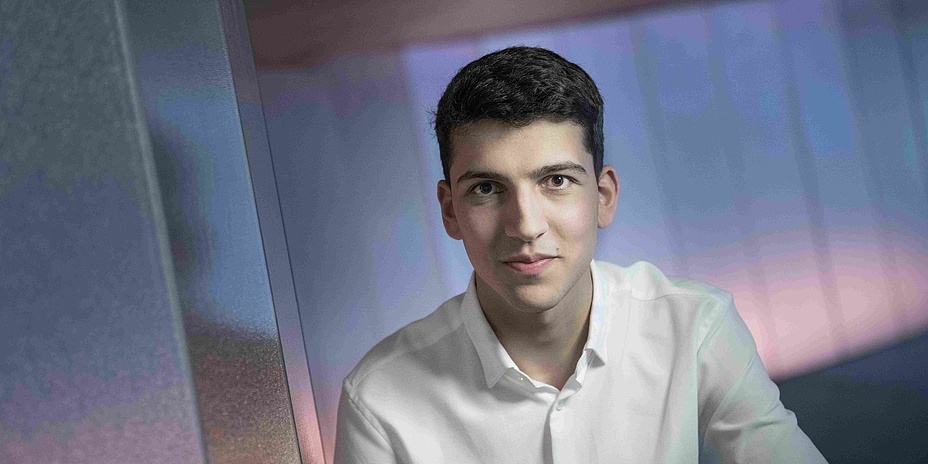 Kushtrim Vishi studies architecture at Graz University of Technology. © Jungwirth – TU Graz
I've been studying Architecture at TU Graz for almost two years and I'm really enjoying it so far. After I decided to study architecture, the main question for me was where to do it. I finally decided to study it abroad in Graz, Austria – and that decision couldn't have turned out better.
Blog start page