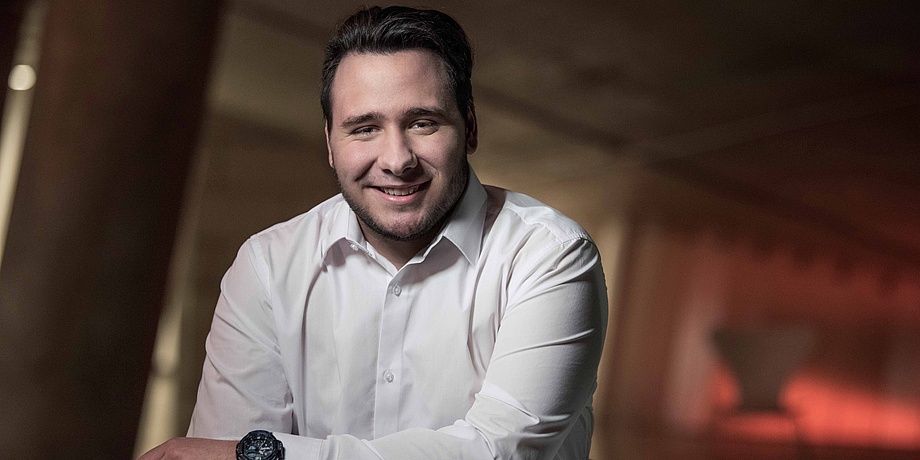 Gergő Horváth came from Balatonfenyves, Hungary, to Graz, Austria, to do a bachelor's degree programme in chemistry at TU Graz. © Jungwirth – TU Graz
It can be arduous as a student to go abroad and start a new life. There are lots of challenges that have to be met, and there are many ways to do so. I would like to share how I coped with the language, homesickness and loneliness.
My name is Gergő Horváth. I lived in a small village in Hungary until I moved to Villach (Austria) and later to Graz in order to continue my education in a foreign country. Currently I am studying chemistry at Graz University of Technology (TU Graz). I was always curious about a different life, what it looks like somewhere else, somewhere not that far away.
Language issues
As I first moved to Austria, I could barely speak German, so at the beginning I had to use English to communicate with strangers. Slowly, as I was not afraid anymore, I started to speak German with everyone else around me. Do not be afraid to speak; everyone makes mistakes, so don't worry about it! German is just as beautiful as it is hard, so you have to practise it a lot. Luckily everyone in Graz is open-minded about this; they help you during conversations if necessary. The best way to learn a foreign language is to communicate with talkative people, where you constantly compare opinions with each other and talk about different daily topics.
TU Graz recommends the language courses organised by treffpunkt sprachen, the Centre for Language, Plurilingualism and Didactics at the University of Graz. You can participate in an intensive German language course before the start of the semester and/or take a German language course during the semester.
On the TU Graz website "Your stay at TU Graz – preparation" you will find answers to questions about German language courses, visa, accommodation, health insurance and more.
Homesickness
Being abroad means you are all by yourself in a different country – which has its ups and downs. At the beginning, people tend to get homesick, but there are many ways to fight that. I believe it is important to bring the comfort from home to your new apartment for instance with a picture or a toy. Your own room can function as your little safe place. And besides it is nowadays quite easy to keep in touch with your loved ones through the internet.
Loneliness
Unfortunately some people tend to spend too much time in their rooms or apartments, which may create an even bigger isolation. Being alone can be tempting at first sight, but then you realize human beings desire company. Friendship is just the most important key to every issue you have to deal with. There are several ways to make new contacts abroad. For example I sought out familiar activities I did back in the day in Hungary in order to meet people who have the same interests as me. During these activities I got to know some of my present friends, with whom I spend most of my time. In case you are shy and do not have the courage to start a conversation in person, you always have the chance to make acquaintances online.
Get active and take advantage of the many opportunities at TU Graz and in Graz to socialize. In her blog post my colleague Fjolla Hasani wrote about networking and making friends as an International in Graz.
Contact points for students from abroad
The "Welcome Center" at the TU Graz offers support for students from abroad who are pursuing a degree programme at TU Graz. It is meant to be the first contact point for international degree-seeking students and offers help in finding accommodation, gives you general information about living in Austria and supports networking and integration by organizing events. Note: If you come to Graz within the framework of an exchange programme, you get information at the "International Office".
Recently a new "International House" organized by the International Office – Welcome Center has opened its doors. The main goal is to provide a place for international students to meet up and have fun together. This house can be hired for evenings. There are different rooms and sections – for example a garden, which offers a great possibility to hold a barbecue in summertime. Inside the building there are some billiard tables and other options to have fun. Because of the COVID-19 situation, the registration process is still in development.
Despite a bumpy start, I am most grateful for the opportunity I gained by moving to Austria and being able to study at TU Graz. I would recommend Graz to everyone who is in the position of being able to move away from home, especially for students. TU Graz is a university that supports international students in every possible way.
Read more about Graz as a city to study in on the TU Graz website.
Blog start page