Ok, I admit it: I've got the 'timber bug'. Not only because I am working for a company dedicated to promoting the use of timber but above all because I am convinced that the future belongs to timber construction. Indeed, building in wood brings out the best in this natural material. And now new calculation and manufacturing processes have made timber suitable for a whole range of buildings from one-family houses to multi-storey office buildings, obliterating almost all previous limits to the dimensions of a timber building. Structures with a free span up to 100 metres or a height of more than 20 metres are now easily achievable with this reliable and robust construction material.
The house that grows back
Apart from the architectural and structural-physical tricks timber as a natural construction material is able to pull off, there is also a very important ecological aspect. Wood is a sustainable material that grows virtually on our doorstep. It is not for nothing that Styria is nicknamed the 'Green Heart of Austria'. Approximately 60 percent of our province is densely covered by forests. Using timber as a construction material is therefore an almost irresistible proposition.
Innovative solutions
Recent innovations in timber construction offer solutions for all structural and architectural challenges. Meanwhile, the high degree of prefabrication reduces construction time. Walls and ceiling elements can be produced in the factory to the exact specifications of the client. Even complete residential units including bathrooms, fixtures, fittings and equipment can now be prebuilt as connectable modules. As a result, the entire room can be assembled and carried to the construction site on a flatbed truck. All that remains to be done on location is to join up the modules with the façade and connect the building services such as HVAC systems.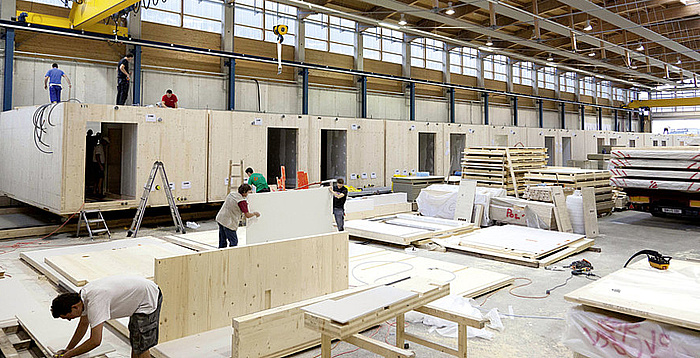 Because of the high degree of prefabrication, many timber room modules can be manufactured in a day. These plug-in modules are then transported to the construction site on a flatbed truck.
From regional to international
With many forest-covered surfaces, Austria is predestined to pioneer the use of timber as a construction material. But also neighbouring Germany and even Finland and Norway are increasingly developing a taste for this type of construction. As a leading manufacturer of laminated and crosslaminated timber, Austria is an important global player in this sector.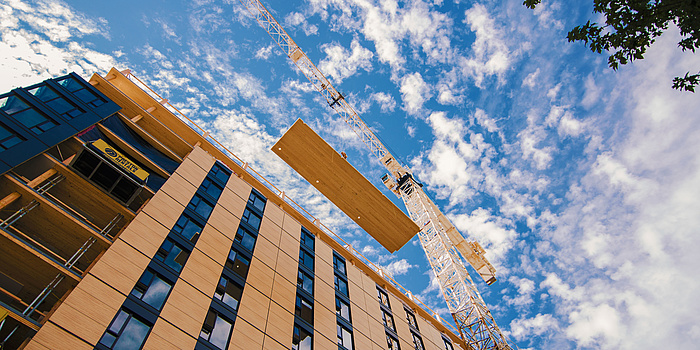 For a short time only, the 18-story building erected on the university campus of Western Canadian metropolis Vancouver will be the world's highest timber building. But it is set to lose its title again when the currently planned 24-story and 84m high 'HoHo' building in Austria's capital Vienna is completed.
TU Graz and proHolz Academy
proHolz Styria naturally wants to pass on this comprehensive know-how about timber as a construction material to students. Therefore, the proHolz Academy organizes evening lectures and information events about the latest technical developments in timber construction. Through field trips to innovative and future-oriented timber structures, participants receive inspiring new ideas and acquire in-depth know-how for their own (planned) projects. The buildings retain their high quality even after many years of utilisation and demonstrate the wide variety of applications for timber as construction material. Of course these events are free for students.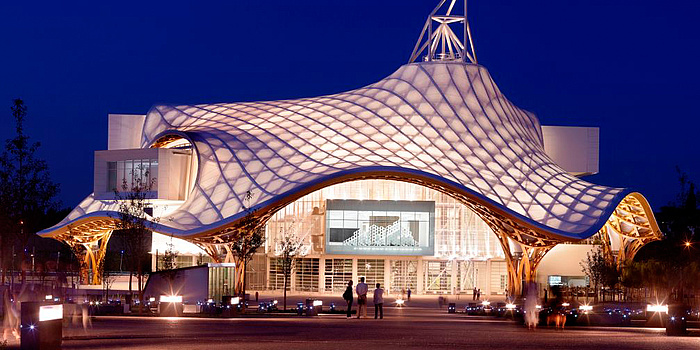 Hermann Blumer planned the Centre Pompidou-Metz in France together with internationally renowned architect Shigeru Ban. On 30 November he will speak about this and many other timber construction projects at TU Graz.
Presentations by international timber construction experts
proHolz Academy will host the third Timber Construction Convention at TU Graz at the end of November. This year's subject is modern wood architecture. Hermann Blumer (CH), Samuel Blumer (AUT) and Reinhard Kropf (NOR), three internationally renowned timber construction experts, will travel to Graz and demonstrate the full potential of timber construction, both structurally and architecturally. Based on groundbreaking timber construction projects they will explain the approach from the first design to the final implementation of the building, highlighting the possibilities and challenges of modern wood architecture. After a discussion of the intimate connection between architecture and wood, the final round table will afford a glimpse of the future of timber construction. The evening will be dedicated entirely to the interplay between architecture and technology in the design, planning and execution stages of modern timber structures.
Architecture meets wood
Date: 30 November 2016, 6pm
Place: TU Graz, Aula, Rechbauerstraße 12, 8010 Graz, 1st floor