Wikipedia defines the new economy as the 'transition from a manufacturing-based economy to a service-based economy'. In plain language: Spotify, Netflix and Dropbox instead of MP3 players, DVDs and USB sticks. And of course, this includes every type of service, for instance – financial and medical areas, home and commerce, and also the automotive industry. Start-ups from Graz are actively involved in all these areas.
But what's really behind it?
What's it like to actively take part in a start-up within the structure of the new economy? I expanded my know-how in this field by engaging in interesting talks with new economy experts and visiting various events. And the result? it's all about making an idea concrete and developing it into a profitable business (a mostly web-based service). The basic approaches of the events and talks can be distilled as follows:
Finding an idea
Finding a suitable team
Protecting intellectual property
Taking the first step to making the idea concrete
Growth
Funding

IT and online marketing

Scaling and subsequent world domination ;)
Because as a classical mechanical engineer I was first and foremost thinking of production, this implied that the field of production fades into the background and the big money can only be made in the internet with services. To get a better idea of all this, I read books and blogs and took part in seminars. I visited big trade fairs, like the IAA in Frankfurt and the K-2017 (the biggest plastics fare in Europe) in Düsseldorf. Wherever I went, everyone spoke about how the new economy was transforming industries, and there was even talk of a revolution. This made me think of the old proverb: 'Nothing is more constant than change' – but is it different this time?
My experiences
I had known Manuel Bruschi (CEO of the Timeular start-up) personally for a long time, and I learnt that he had been working on an idea since June 2015 which would supposedly revolutionise time and attendance systems. It made use of an eight-sided cube, the ZEIº, combined with an app. In April 2016 he and his partner went to Singapore to visit a hardware accelerator for two months where the focus was on product development, funding, intellectual property and growth. In October 2016 a Kickstarter campaign was launched in which 3000 supporters from 70 countries raised some 314,000 euros for the production of the ZEI°. I was also part of it. Delivery was meant to start in March 2017.
At Kickstarter, young start-ups can advertise their products and sell their not yet fully developed products to their customers at a cheaper price. Roughly speaking, a Kickstarter campaign falls within the purview of phase 5 content. Parallel to this, phase 6 was also covered by a six-figure venture capital funding. The investors of the venture capital fund also give support with the implementation of phase 7 to 8..
And now the old economy comes into play
April 2017 went by and my ZEIº had still not been delivered. Manuel Bruschi knew my career and my great interest in his company and wanted me in his team for the production of the ZEI. At this time, the six-person team – as it was in those days – was at a meeting lasting several days in Marbella, Spain, and we arranged a time to Skype. It was a very pleasant atmosphere as we discussed my joining Timeular and what contribution I could make to the successfully manufacture of the product. I recounted my experiences with suppliers and what difficulties could occur in the production of hardware. In the subsequent telephone call with Manuel, it turned out that the problems I had talked about (delivery and production problems) were exactly the difficulties they were facing in their ZEI° production and were, in fact, the cause of the delay in delivery.
After successful financing via the investment portal Kickstarter, there were production and delivery problems at ZEI°, which were solved with new support and some changes.
My next stop was to visit the team in Munich to get to know them all. I spent the night on the couch in the warehouse, and the next day I went back to Graz, where I had just taken a few days off from my full-time job. From this point in time on, I dealt with production, supply chain and logistics – in other words, making sure that buyers really do receive their products. The aims were very clear: to get production going, to raise the security of delivery of supplied parts and to find a reliable distributor to despatch the product in good time. The pace at which I was able to make independent decisions contributed to the fact that by the end of July 2017, all the Kickstarter orders had been sent to their respective customers. Switching over from an established logistics company to a young, dynamic firm by the name of Logsta (stands for 'Logistics Rock Star') in Wiener Neustadt finally ensured that from 2018 onwards, none of the customers received their ZEI° late any more.
No separation between job and private life
Generally it must be emphasised that there are no clear dividing lines between job and private life because the work doesn't 'feel' like work. Without this mind-set it would not have been possible for me to persist. When I joined Timeular, I was working 40 hours a week in my other job and had to take holiday leave for the multiple day meetings. Since September 2017, I have only been working four days a week in the 'old economy' – at AVL in Graz. I like it there too. There, the future of automotive engineering is being developed and they are a technological pioneer in the automotive industry.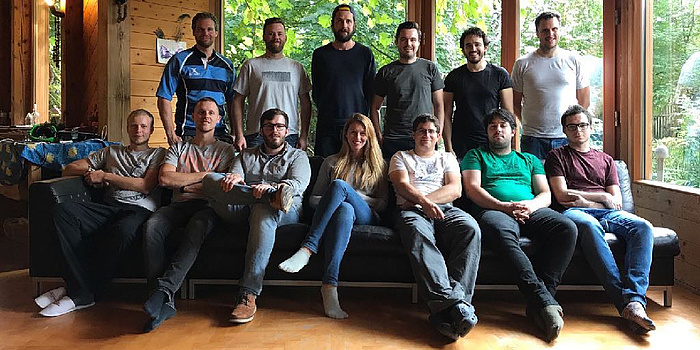 A working meeting in the countryside: The Timular team meets regularly to coordinate their strategies.
New economy versus old economy
What the changed working conditions in the new economy make so interesting for me: We work remotely, in other words mostly from home, and meet up at meetings lasting several days where the strategy is worked out. These multiple-day get-togethers are always very productive and cheerful: hard work but not short on fun. You get to know your team better and get lots of input from all your colleagues, who you otherwise only communicate with via Skype or email. The new tools of the new economy are Slack, Google Docs and Hangouts: these and many other tools are necessary when you work remotely. At the beginning these many new instruments were confusing, but you learn how to deal with them quickly. Right from the beginning, I would be making independent decisions that affected the whole company. This would be unthinkable in the old economy. At Timeular, strategic decisions are made swiftly and without complication; there are no politics and no beating about the bush. Marketing takes place exclusively online on Facebook, Google, various influencers, blogs and similar channels. The speed and the simple, globally effective steering capabilities are impressive. High value is placed on transparency and fairness. Everyone knows what the other person earns, what the next strategic steps are, knows all the steps of management and is familiar with what is communicated to the investors. Feedback and communication are actively promoted. Anyone who has a good idea can and should bring it to the table. After more than one year at Timeular I got to know a completely different way of working and I'm convinced that certain things in the new economy will also catch on in the old economy. Then there's the German saying: 'When people are ready, conditions have long been ready'. It appears that there are no longer any clear dividing lines between the new economy and the old economy – the boundary is becoming more and more blurred. I am convinced that both can learn and already are learning from each other. In conclusion I regard the proclaimed revolution as nothing overly alarming since, at the end of the day, physics is and remains physics and people are and remain people.