"Everyone can get an education": under this slogan, in the month of May, Students' Unions from the whole of Austria bring courses out of their usual venues directly to the people. Whether during a walk through the town or the park, while drinking coffee in the little café next door, or while driving through Graz in the open-topped bus – in May 2016 lectures take place in the most varied places.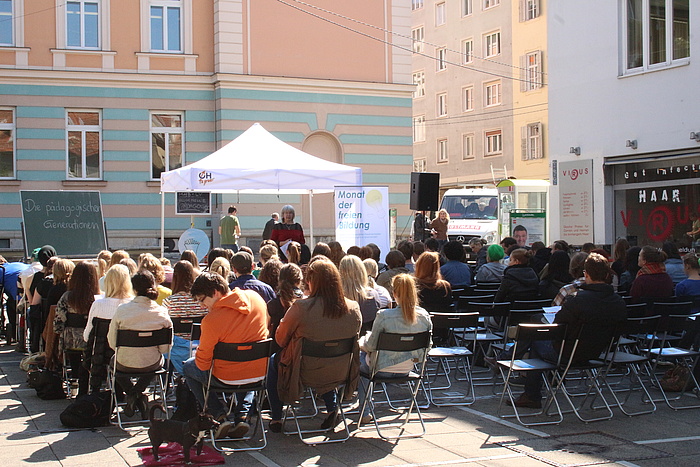 Thoughout May 2016, university courses from various disciplines find their way out of lecture halls into the middle of the city - and take place at e.g. Tummelplatz in the old town of Graz, as seen in the picture.
The perception of education is shaped by the rankings. How am I doing? What about my colleagues? And how good is my school anyway? This begins early in primary school and continues seamlessly into university. But does education end with the personal hunt for good grades? Is a university education an individual privilege or public property? This is why we're bringing universities, universities of applied science and teacher training colleges into the town: to break up false images and prejudices and to show that what happens at universities touches everybody. We at the TU Graz Students' Union bear most of the responsibility for carrying this out in Styria, and are committed to people recognising the value of these courses even outside the so-called "ivory towers". In this way we want to increase the public's understanding of education at universities in society. As part of a highly developed society, we think too little about how and why we've achieved this status - and this is really what it's about.
Full support from the rectorates: Sascha Rossmann with the rectors Elisabeth Freismuth (University of Music and Performing Arts Graz), Christa Neuper (University of Graz) and Harald Kainz (TU Graz) at the presentation of the project "Month of free education 2016".
In May we simply exchange the halls and classrooms of universities and teacher training institutes for places outside of our habitual, venerable old walls. Holding lectures which are freely accessible and in public places finds a path to the broad public and creates an awareness of education. We cover the whole range of the Styrian universities in a colourful programme mix – from explaining nuclear fusion to improvised theatre. Also, through the use of modern technologies, such as streaming (iMoox, a modern e-learning system from TU Graz and Uni Graz), we reach out to persons who otherwise for reasons of time can't make it to our course events.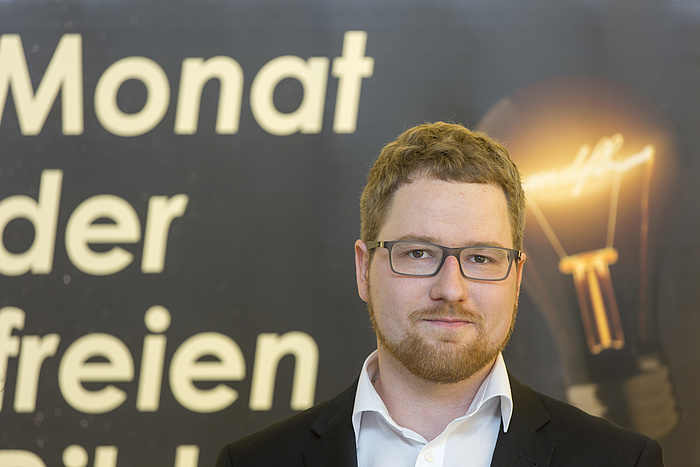 Sascha Rossmann is convinced: "Education shapes us and makes us into the people we are".