Monday, 14 February 2011, 5am. It's hardly been one year since, after much consideration, I decided to plunge back into university life. And now, just a couple of days after saying goodbye to my last employer, I got into my car on a cold winter's morning and drove to an unknown city in a different country to start a new phase in my life. After a few hours drive and having arrived in Graz, my first impressions of TU Graz were positively formed by the imposing Alter Technik in the Rechbauerstraße. Enrollment at TU Graz went without incident and I officially became once again what I had been before – a student. But this time was different: I was holding the confirmation of supervision from my future doctoral supervisor in my hands. The typical student life phase, shaped by all its small pleasures and austerity; it's not going to happen this time.
New chapter
Although the imagined idea of my new 'old' life was rather blurred, I had decided to leave behind my previous life, my trusted friends, relatives and places and to start a new chapter. However, what then began would lead me – both personally and professionally – in a completely unexpected direction.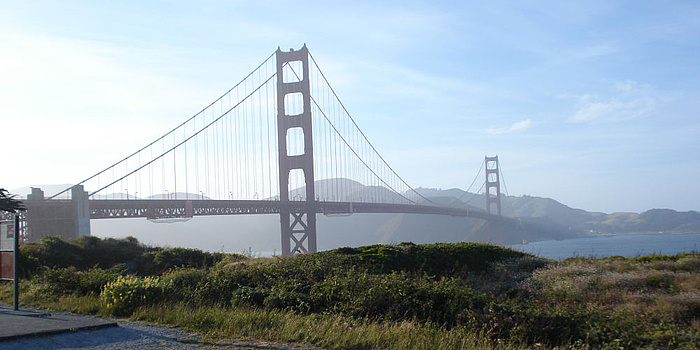 Business trip to San Francisco. © Josip Bozic
Shortly after I started work was the first big surprise: the prospect of a 40-hour-week job as a project team member at the Institute of Software Technology. All this together with – for someone used to Croatian standards – a hefty monthly salary. The idea that, while doing continuing education, you can be employed and paid in a regular job was almost too good to be true. After being hired, the job proceeded not without the usual hurdles and lack of orientation. I had to dedicate myself to a particular topic in computer science and conduct research in this area. The result was supposed to be a novel solution approach or at least a supplement whose evaluated results were to be summarised in publications, published and elaborated in a particular place. And this turned out to be the second big surprise: I was obliged to attend various meetings in the form of workshops and conferences. Apart from the fact that this offered the possibility of meeting people working on the same topics from all over the world, the dream of every travel enthusiast was coming true: I was being 'forced' to travel the world! The great professional advantage is that the works presented represent the current state of the art of the subject area with which you can compare your own work progress. The authors of these works – a range of people from academia and industry – are actually present. If things go well, you make contacts – not only to ensure the quality of your own work, but also as a basis for future collaboration.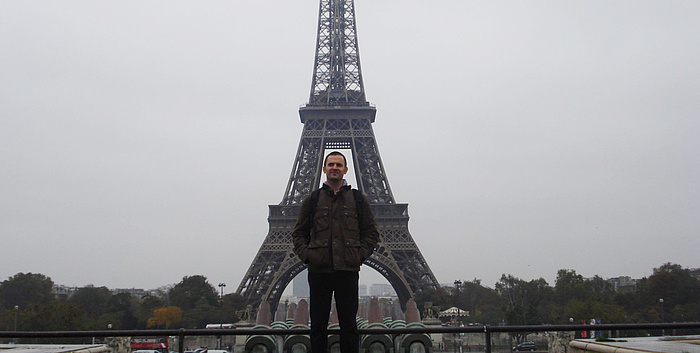 First conference in Paris. © Josip Bozic
The choice of venue for my first publication was Paris - the city of lights. With such professional stays abroad, it became habitual for me to hang a couple of days onto the workshop or conference at the end for private purposes. Over the years, other stays followed in such places as San Francisco, Cleveland, Porto, Madrid and Vancouver as well as a few 'smaller' places in Austria.
Encounter with cultural differences
Interestingly, cultural influences always play a certain role at such events, despite international character and the objectivity of the topics. I'd like to go into these personal impressions a little bit more. Preconceptions definitely play a usually unwanted or unconscious role in encounters with people from different cultures. Our human faculty of judgment often filters information from the outside world. In other words, one wants to form an opinion about something which is vast out of as few common attributes as possible. Despite a personal conscious aversion to this mechanism, I still have to admit that I often meet with particular assumed behavioural patterns (to distance myself from the negative undertone of the term prejudice) on every journey. Nevertheless, it's your own experience which in retrospect really leaves behind an emotional impression.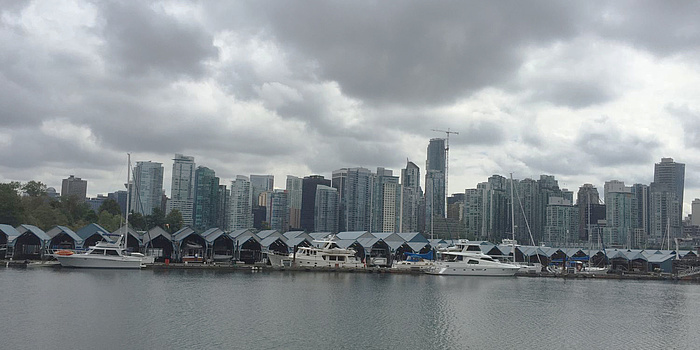 Stay in Vancouver. © Josip Bozic
Journey to Hyderabad
I'd like to recount the experience of my up to now most impressive trip – the one to Hyderabad, India, in May/ June 2014. Hyderabad, a metropolis of almost seven million inhabitants, like the rest of the country, is rich in history and one of the centres of the Indian IT industry. A year before the conference, the city was completely unknown to me.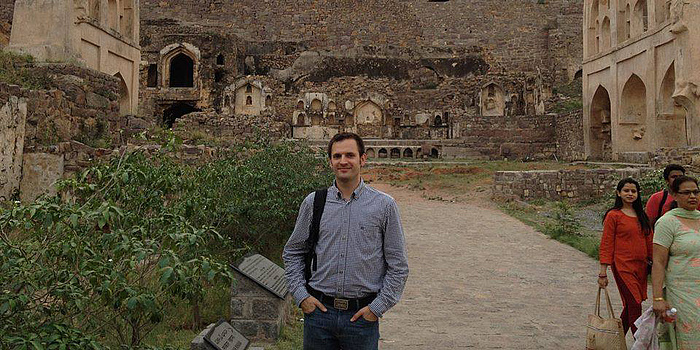 In Hyderabad. © Josip Bozic
Before departure I had to have myself immunised against typhoid and hepatitis; that wouldn't have been necessary anywhere else. It's probably reasons like this that many Europeans unfortunately avoid travelling to this country. Otherwise, my stay in India was shaped by the great warmth of a traditional but also cosmopolitan culture. This society is both politically and religiously pluralistic – instead of an exclusive national culture – and a world which in its totality has quite different characteristics compared to European and North American society, but still appears to function. As I mentioned earlier, it is one's own experience which broadens the empirical boundaries and leaves behind positive impressions. That such encounters are made possible I would count as one of the special offers of TU Graz – apart from the professional dimension. Despite the enumerated positive sides, you shouldn't nevertheless disregard the fact that this job can be really demanding under some circumstances. Deadlines and very high goals make demands on your time and produce stress, to which the 40-hour working week and work-free weekends immediately fall victim. Also, disappointment about the rejection of an article for publication sometimes makes months of work seem rather meaningless, which can be depressing.
Though once you've reached your goal, the gateway to the whole world is thrown open. I'll never let this freedom go.