At the end of April we were ready. The High Performance Sailing (HPS)
TU Graz
Student Team was the first Austrian team to take part in the 50th EDHEC regatta in Brest (France). The team was proud to secure eighth position among the 25 Student Teams in our boat class – that's in the top middle. But how did we end up in this competition?
What is the CC EDHEC?
Course Croisière EDHEC is an international sailing regatta with the main focus on pitting student teams from all over the world against each other. There are different classes and ratings, depending on how the team is composed and what class of boat you sail in. The international reputation and popularity of the CC EDHEC brought the competition to our attention.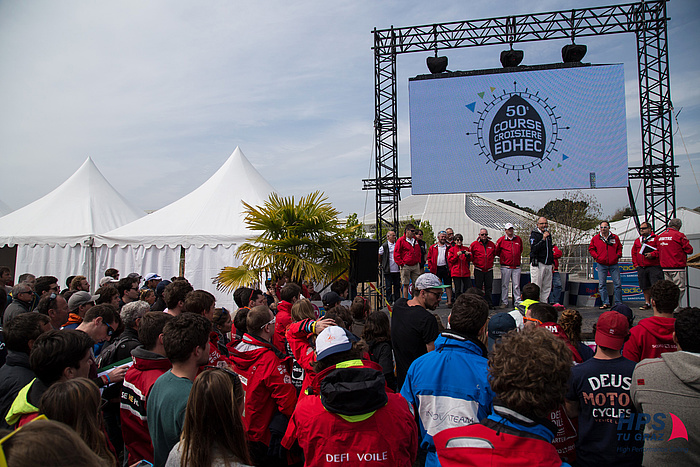 International university teams meet at the Course Croisière EDHEC regatta.
We took the opportunity to participate in this special event to become more well known internationally and find out how sailing at a university level is promoted in other countries.
It was an amazing week. It was a unique experience! I'm so happy I could be part of it in my team!
What's special about this regatta is the programme and the atmosphere. You can feel the motivation and enthusiasm coming off the young people wanting to do sport together and have fun. On top of the races, which take place every day for a week, there are also diverse fringe events. There is everything here – from bungee-jumping to get-togethers in the evening. We felt in good hands, what with being well provided with food and drink, and not least because of the cosy chill-out areas.
What did we achieve?
The HPS
TU Graz
Student Team gathered valuable experience at an international level during this week in no less than 11 races. We were surprised at how widespread sailing is because not only European teams take part, but also teams for example from China and the USA. Amazingly, university sailing in countries like France, Switzerland, Belgium and the USA are much more present in the society and are promoted accordingly. So we were all the more delighted to be allowed to sail right at the front at the debut in this competition. The international exchange of experience also strengthened our motivation as HPS
TU Graz
Student Team to grow in terms of both members and motivation.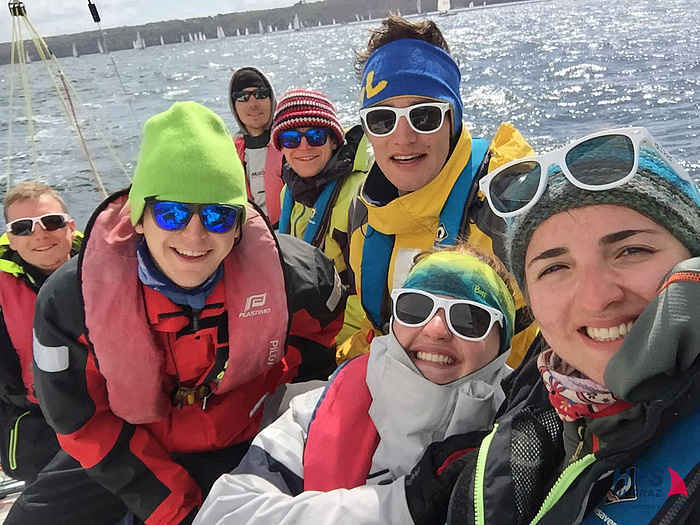 Buoyant and imbued with team spirit, the HPS TU Graz Student Team entered the EDHEC sailing regatta at Brest.
At the Course Croisière EDHEC, the HPS
TU Graz
Student Team proved that as a new group in sailing you can go far by holding together well and good teamwork! We reinforced our skills, gathered practical experience and intensified our team thinking.
Curious? Just get in touch!
Video: In addition to taking part at the CC EDHEC and other regattas, the team is also working on its own sailing boat and offers interesting topics for bachelor's or master's theses in the field of sailing. Michael Puttinger shares some observations about the team lif of the HPS TU Graz Student Team in the video.
As a university of applied science student in the degree programme Information Design, I am delighted that the HPS Student Team of Graz University of Technology (
TU Graz
) let me join up. This is the only Austrian student sailing team and it likes to expand its horizons in many different ways. I really appreciate that the team is open to all students – whether from fields of study such as mechanical engineering, telematics, electrical engineering at
TU Graz
or from other fields of study from the University of Graz or from the
FH
Joanneum University of Applied Sciences. For me, it feels good to use the skills that I've learnt in the fields of marketing and PR in my studies for the HPS TU Graz Student Team. Of course,
TU Graz
students can benefit from taking part more than others because they can also use their experiences for research. The HPS team welcomes all students who have a special place in their hearts for wind and water, and of course all those who want to promote research in sailing.
À Bientôt la France! [See you soon, France!]
Katharina Zvetolec
HPS
TU Graz
Student Team