There are problems and tasks everywhere in this world and in a variety of shapes and sizes. From 'small' challenges in biotechnology to seas contaminated with plastic and climate change. The 'international genetically engineered machine (iGEM)' competition inspires students throughout the world to provide solutions by cooperating among different subject areas. What does it mean to commit yourself to iGEM outside a more or less regular course of study? Every day life often means sitting up until late at night in the University after lectures, discussing new developments and planning the next steps of the project which has to be implemented independently. I know what it doesn't mean: boredom! Every day brings new tasks, and each is different to the other. And if you get completely baffled, working in a team means team members can always help each.
In 2017, more than 3000 participants arrived at the big conference in Boston to present their projects.
iGEM – international genetically engineered machine – stands for a whole community of committed, budding researchers in the field of synthetic biology. Existing natural biological systems are recombined or improved and used in a variety of ways.
Beginning
I know, you're probably asking yourself what an iGEM project actually is and how it runs.
Right at the beginning, usually in October or November, motivated students with a general interest meet up and exchange information about their studies and new research or simply enjoy a couple of beers together and talk about everything and anything.
Students of the master's degree programmes Environmental Systems Sciences, Biomedical Engineering, Chemical and Process Engineering/Natural Sciences, Chemical and Pharmaceutical Engineering, Computer Science, Information and Computer Engineering, Industrial Design, Communication Design as well as Social and Economic Science are particularly sought-after in the Graz iGEM team.
Over the winter and the Christmas holidays we think up sometimes absurd and ludicrous project ideas which are usually later discarded. As a team we try to find a partner at the University or in companies in order to obtain glimpses into already existing research areas. When the decision is made in spring to register for the competition for that year, then the really hot phase of the project starts.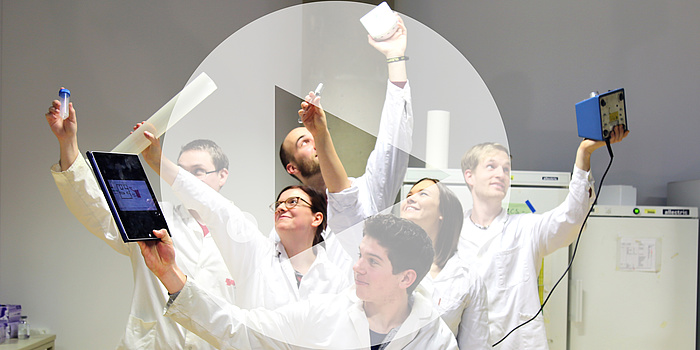 A visit at the Graz iGEM team - video.
Hot phase
Hundreds of promotional emails are sent off and phone calls made with potential sponsors, and this is followed by at least an equal number of moments of frustration. But if you know how to introduce your chosen project in an appropriate way, you'll find more than enough supporters. Several sub-components of the project then follow, because in addition to planning possible laboratory work and trips, an iGEM project also contains extensive public relations work. Here, there is an opportunity to advertise both the team and the project as well as pass on one's own enthusiasm for the study programme to other interested people. In 2017 we carried out various interviews with experts, organised a public panel discussion on the subject of genetic engineering, and cordially invited many people to entertaining events.
In July and at the start of the summer holidays, most of our meet-ups with other iGEM teams take place. If you are interested, you can travel all over the place. In 2017, we took the opportunity to follow up on an invitation from the Delft University of Technology team and spent five incredibly exciting and fun days in Delft together with teams from the Netherlands, Great Britain, Italy, France, Denmark, Sweden, Finland and Germany. Usually the first 'collaborations' are made during such meet-ups – teams from various countries come together and work collectively, intensively and comprehensively on one topic. Collaborations are extraordinarily important for competitive success.
Most progress is made in the project over the three summer months. If you can plan well and distribute the tasks properly, you don't have to give up too much free time for holidays, summer job or friends and family. The whole work culminates in the 'Wiki Freeze', which has meanwhile become legendary among 'iGEMers' – the digital and publicly available documentation of all work and results to be evaluated.
When this has been completed, you now have to wait and endure a lot of tension, and then prepare the concluding journey to the giant jamboree in Boston, Massachusetts, USA, where the finals of the competition take place. The teams have been presenting their ideas, implementations and results to the public in poster sessions and stage presentations since 2003.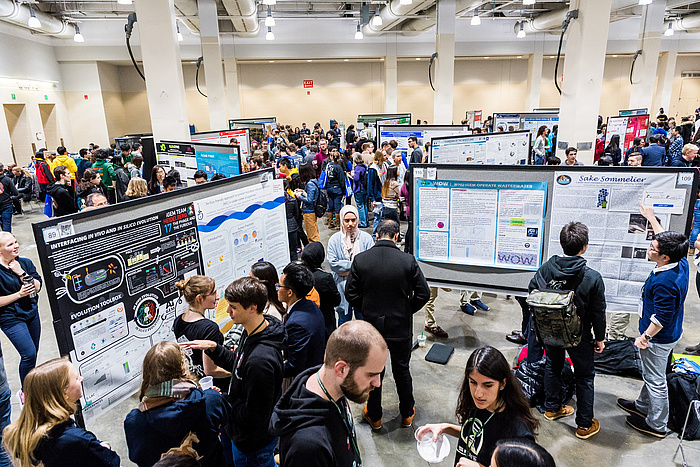 The contacts you make at the finals are priceless and will shape your entire professional life.
Back in everyday student life in mid November, everything starts again. But with one big difference: everyone is incomparably richer with their experience and has developed abilities to a degree which no lecture, practical or seminar could impart. The only task left to do is to present the success in the competition to your own university and to be available for advice for the next team.
You can find a more detailed documentation of the events experienced by the NAWI_Graz 2017 iGEM team on the iGEM wiki and if you want to make contact with the team, you can visit them on Facebook or send an email!
If you would like to meet TU Graz´s student teams face to face you will be able to do so on June 16th: The students are presenting their work at "TU Graz StreeTech" at Hauptplatz Graz. Come, join and get informt! For more information visit the events website 'TU Graz StreeTech'.