In the 1960s, the old geoscientific concept of an
expanding earth
– i.e., the notion of an ever broadening and growing world – underwent a Renaissance. This theory has since been scientifically proven wrong; in fact, today our earth appears to be shrinking every day. That is not strictly scientifically speaking, of course, but in the very field of science and research, global structures merge and colleagues from seemingly different research areas move closer together.
Being a high-temperature geochemist at Monash University in Melbourne/Australia, my specialist field – volcanoes and lavas – may appear as far removed from the carbonates my colleagues at Graz University of Technology are concerned with as the city of Melbourne itself. However, appearances are deceiving.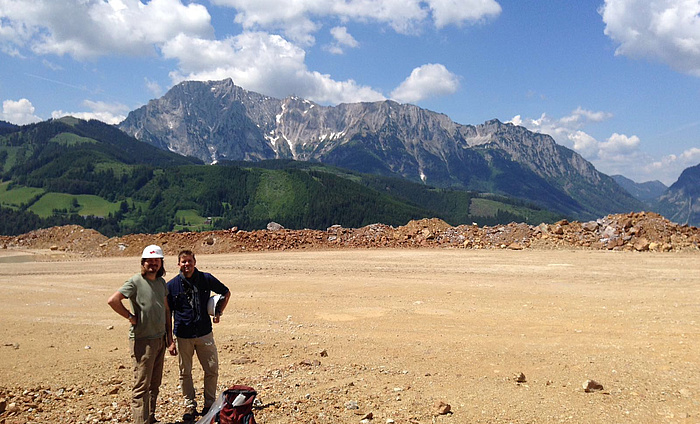 Oliver Nebel (right) and Ronny Boch collecting samples on the Erzberg.
Contemporary geoscientists are by no means restricted to roaming the terrain with hammer and compass. Today, they need a solid background in one or more disciplines, while concurrently acting as researchers, teachers, and mentors as well as being expected to be versed in the worlds of finance and PR. It is no longer possible to meet such a plethora of demands all by yourself. Most importantly, the methods applied in geosciences are becoming increasingly high resolution, the techniques increasingly complex, the limits of detection ever smaller. Analytical geochemistry, and plasma mass spectrometry in particular, are my day-to-day business. Thus I was immediately enthusiastic about taking my methodologies to Graz. In turn, the broad research done here and everything I was able to learn from my Graz colleagues and take back to Australia was equally fascinating. This actually demonstrates what modern geosciences are. Ronny Boch, an expert in climate research focussing on the analysis of stalactites, is working on scaling (i.e., the "blockage" of pipes caused by limestone) as well as on the neotectonics of the famous Erzberg. Carbonate expert Dorothee Hippler is not only conducting research on the systematic formation of carbonates, but also on the latter's significance for the explosion of life during the history of the earth. Group leader Martin Dietzel simulates and replicates natural carbonates in laboratory experiments.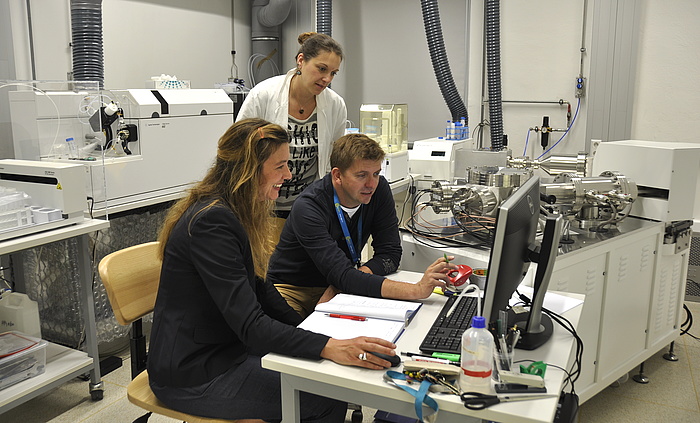 The mass spectrometer for the isotopic analysis of rocks is being tuned by Dorothee Hippler and Sylvia Perchthold prior to sample analysis.
My visiting professorship at Graz University of Technology has not only given me insight into new learning methods, it has also given me the opportunity to become acquainted with a highly interesting field of research, covering both applied as well as fundamental aspects of geosciences: carbonate and phosphate genesis in its numerous facets and variations. Carbonates and phosphates are climate reservoirs of earth's history, they play a significant role in the formation of bones as well as of shell skeletons and are present in every sip of tap water we drink. From my point of view, this exchange has been a complete success on a professional as well as on a personal level. I felt welcome from the very first moment and was quickly integrated into academic life in Graz. I was given the opportunity to partake in impressive research projects and hope that I shall leave behind a little bit of "culture à la down under". A good scientist is never done learning, and thus I think that what I have been able to learn here has made me a little better. I am looking forward to future years of a mutually beneficial collaboration between Graz and Melbourne. In a world where the sciences cooperate across continents and expertise is exchanged to explore new frontiers, I dare suggest: Maybe it is indeed time to propagate a
shrinking earth
theory, for which we were able to gather ample evidence just here in Graz.