I was part of the Betonkanu TU Graz. team in 2015, while studying civil engineering. As a team we were able to brilliantly master the challenge of building the lightest concrete canoe of the regatta and win in this category. Our canoe weighed 3.1 kg per linear metre and had a total length of 5.39 m, giving in a total weight of 16.35 kg. At the time it was the lightest concrete canoe in history. While collaborating on this project I was inspired by the sheer number of possibilities of making such a light canoe out of concrete. Today, as a university assistant, I can support the students in their building plans, steer the project organisationally, and assist with my knowledge.
The German Betonkanu Regatta takes place every two years and student teams from all over Europe measure themselves against each other in a variety of competitions, such as design, construction and sports events. The concrete canoe student team of TU Graz also regularly takes part with concrete canoes they've built themselves and was able to get several podium positions at the last two regattas in Cologne in 2017 and Brandenburg in 2015.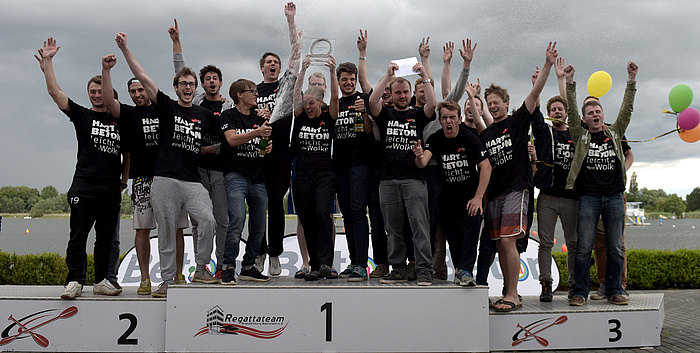 The 2015 team wins in the category lightest canoe.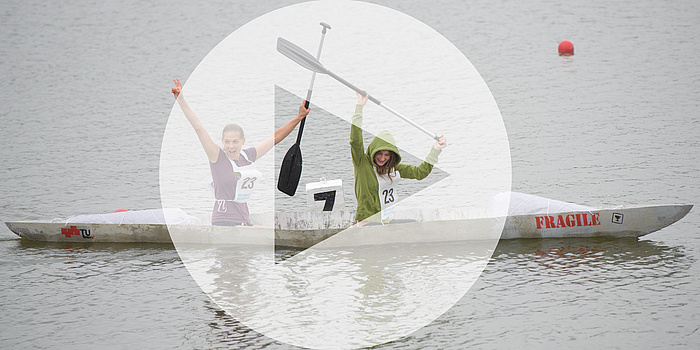 The Betonkanu TU Graz team on video.
If you would like to meet TU Graz´s student teams face to face you will be able to do so on June 16th: The students are presenting their work at "TU Graz StreeTech" at Hauptplatz Graz. Come, join and get informt! For more information visit the events Website "TU Graz StreeTech".
Project course
A competition category is decided on as a goal for the team one year before the regatta, for instance, "lightest canoe" or "design". Then the students work out a number of design ideas and drafts. Team members try to use innovative production technologies, such as milling or 3D concrete printing in the planning stage, to develop a unique shape and design for the canoe. Technical knowledge from the study programmes about calculations and production including development of materials has to be communicated and applied as best as possible. But it's not only these skills that are sought after, but also marketing, sponsoring and image and video processing.
Will the canoe hold? Has it a leak? Will it sink?
When the canoe is finally built, the adrenaline level goes up rapidly just before floating it for the first time. Will the canoe hold? Has it got a leak? Will it sink? These are just some of the questions going through the students' heads before its maiden voyage. But when it works, everyone is so happy. At the regatta itself, how the other canoes are built and what techniques are used is very exciting for everyone involved. One big important aspect is, of course, being together and celebrating at the place of the event. So many contacts are made which could prove very useful later when looking for a job or in professional life.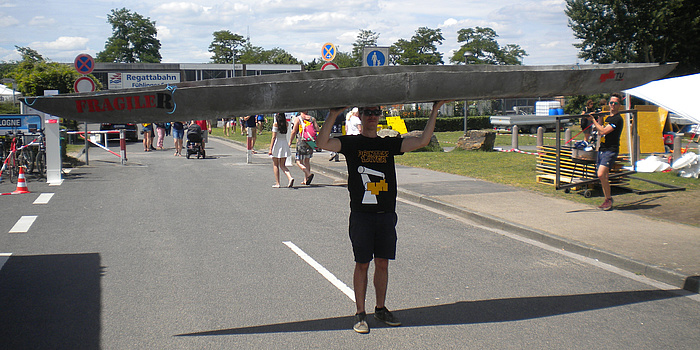 Concrete canoe "Fragiler" only weighs 15.25 kg and has a length of 5.39 m.
Who can join in?
The team is composed mainly of civil engineering students but also students of architecture and mechanical engineering. Because diversity is a big advantage, we're very happy when students from other fields of study join in. There are no requirements other than enthusiasm for the subject area and motivation to learn. You can contact the teams by
E-Mail
. We're very happy for any kind of support.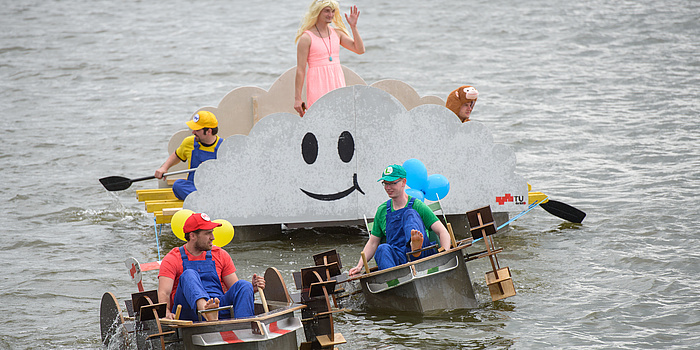 The vessel "Mario-Kart" of the TU Graz 2015 team achieved 4th place in the open class.