Erasmus+ and travel - two things that simply belong together. When I decided to embark on my Erasmus+ adventure to Università degli Studi di Padova, I already had in mind that I would like to take a trip or two. But it turned out differently than I thought and the "one or two trips" quickly turned into a small Italy round trip.
Do you want to get inspired by my experiences? I got you! Here is a list of places I visited.
Want to read more from our study abroad peers who are currently doing a semester abroad? Follow them on the International Office – Welcome Center's social media channels on Facebook and Instagram!
1. Venice (travel time: about 30 minutes by train)
An absolute must! During the semester you have the opportunity to visit the city outside the main tourist periods and enjoy the atmosphere without crowded squares and alleys. A popular activity among students: A "Bacaro Tour" where you visit traditional bars and taste regional wines and delicious cicchetti (small snacks/buns). Perfect for diving into Venetian culture and getting to socialize with the locals.
2. Verona (travel time: about 1 hour by train)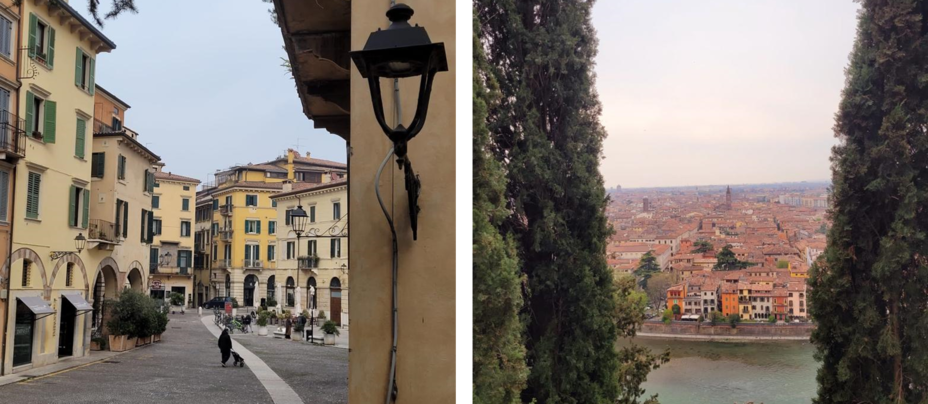 Romantic old town and good views, that's Verona! (Image source: Karin Griessmair)
Verona, the city of Romeo and Juliet, is definitely worth a day trip. Especially worth seeing are the Arena di Verona, the old town and of course Juliet's balcony! My tip: view the city from above, at the viewpoint of Castell S. Pietro. The climb to the castle is a bit steep, but the view rewards every single step.
3. Chioggia (travel time: about 1 hour by bus)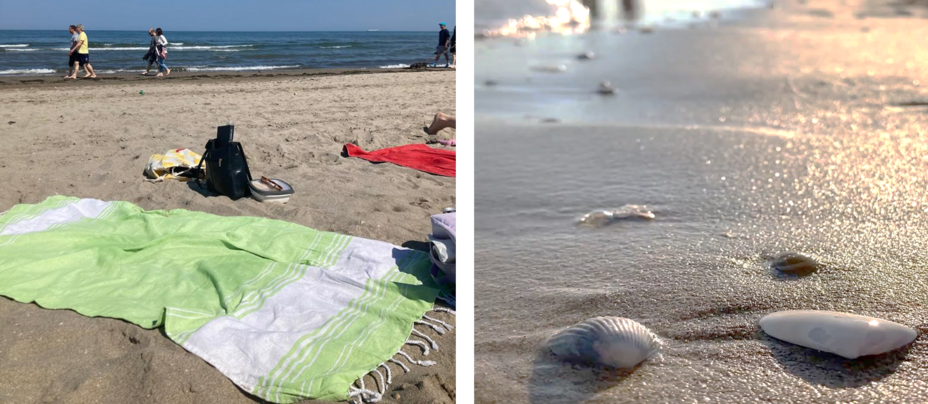 Swim and relax on the coast of Chioggia. (Image source: Karin Griessmair)
Chioggia, also known as "Little Venice", is a small coastal town with charming alleys, bridges and romantic canals. But if I'm honest, I recommend visiting it for another reason – a beach day! Already after Easter the beach season starts, and the beach bars open their doors. For me, swimming in the sea water is simply the ultimate vacation feeling besides everyday university life.
4. Lake Garda (travel time: about 2 hours by train and bus)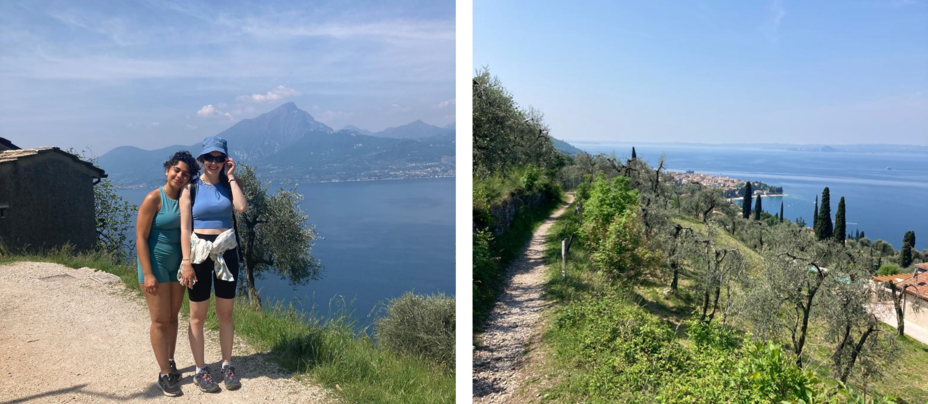 Mountains and Water – Hiking with a beautiful view at Lake Garda. (Image source: Karin Griessmair)
Escape from city life and enjoy the beauty of nature - that was our plan for Lake Garda. There are countless places to discover there and there is definitely something for everyone: hiking, swimming, biking, climbing or just strolling through charming little towns. One of my most memorable experiences was a breath-taking panoramic hike on Lake Garda, followed by a boat trip to Limone and Malcesine. The perfect combination of activity and relaxation!
5. Florence (travel time: about 1 hour and 30 minutes by train)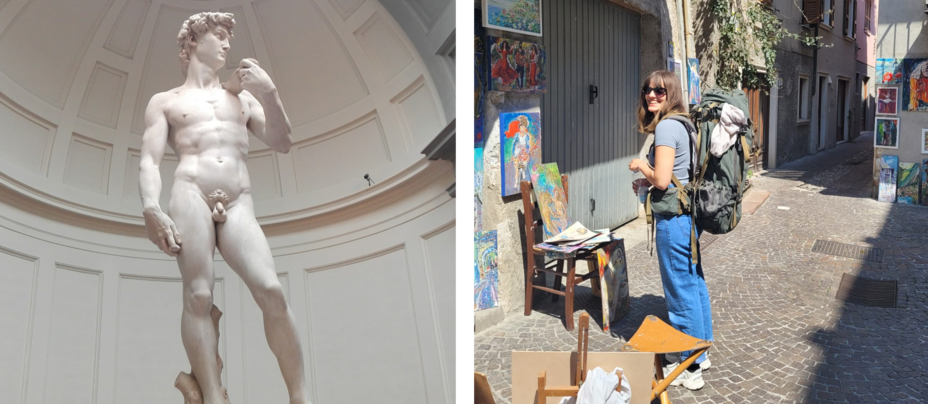 Must-see in Florence: David by Michaelangelo. (Image source: Karin Griessmair)
Florence, a historic city in Tuscany, impressed me with art, culture, and architecture. In the Uffizi Gallery, you can admire masterpieces like Michelangelo's David and Botticelli's Birth of Venus. My tip: If you are an EU citizen under 26, ask for reduced entrance fees, which are sometimes not obviously indicated. I also quickly secured the reduced price (I will soon turn 26 and have to say goodbye to such offers heavy-heartedly) and thus paid only an entrance fee of 2 euros. The city centre of Florence is also charming and a trip to Tuscany is an absolute recommendation if you want to explore Italy.
6. Rome (travel time: about 3 hours and 30 minutes by train)
Colosseum from inside and pizza dinner in Rome. (Image source: Karin Griessmair)
Come, let's travel to Rome!
Rome? Isn't that pretty far from Padua? No! I was totally surprised to find out that you can reach the capital in just 3.5 hours by high-speed train, the Freccia Veloce. St. Peter's Basilica, Trevi Fountain, Spanish Steps and of course the Colosseum: again, 2 euros entrance fee for EU citizens under 26. Rome has not only a fascinating history and impressive architecture but also a diverse culinary scene and vibrant nightlife. The atmosphere of the lively metropolis is immediately noticeable and in the middle of this scenery the best of both worlds comes together – a modern city with historical charm.
7. Bologna (travel time: about 1 hour by train)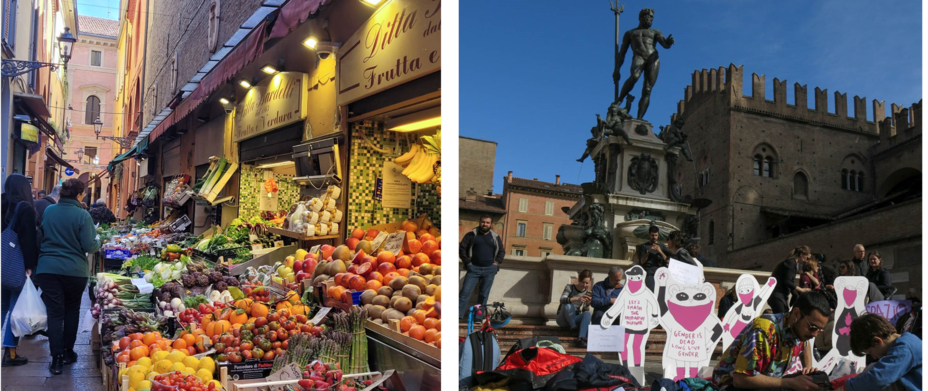 The young students' political commitment and love of food are immediately noticeable in Bologna. (Image source: Karin Griessmair)
Another nearby city is Bologna, known by its nicknames "La Grassa, La Rossa, La Dotta". "La Grassa" (the fat one) due to its delicious cuisine and culinary tradition, "La Rossa" (the red one) due to its political orientation and red brick houses, and "La Dotta" (the academic one) thanks to its famous university. In fact, during my visit I was able to locate all three bynames: In the city, you meet a lot of young people and during a walk through the historic old town, the path almost inevitably leads to the narrow and fragrant alleys of the old medieval market. Personally, I was very impressed and can highly recommend a visit to this place where culinary delights, political engagement, and intellectual exchange go hand in hand.
8. Cittadella (travel time: about 40 minutes by bus)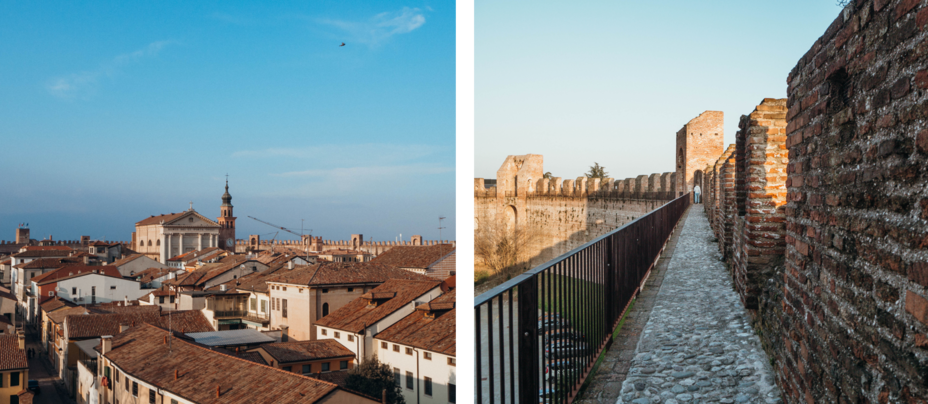 Walking on historic city walls in Cittadella. (Image source: Karin Griessmair)
Really very close to Padua is a small lesser-known town: Cittadella! The special thing about it are the perfectly preserved city walls. These surround the entire city and offer the possibility to ascend and go for a walk, which offers a beautiful view of the city from above. Once back at the ground, you can stroll through the alleys and discover a variety of historic buildings, churches and towers or enjoy a coffee or aperitivo in the main square.
Have you been inspired to travel as well? As TU Graz student, find out about possible stays abroad via Erasmus+ in the TU4U intranet on the page "ERASMUS+ Student Mobility for Studies - Europe".
My previous places are of course only a small selection of travel tips and there are plenty of other places around Padua and throughout Italy that are still to be explored!
Typical destinations are for example Milan and Trieste (both about 2 hours by train), Vicenza (only 15 minutes by train), Dolomites (depending on the destination 2 to 4 hours by train and bus), Pisa (about 3 hours by train), ... So, if you want to travel around Italy besides your Erasmus+ stay, Padua is definitely a great choice!
Blog start page