The question of what to do after the "matura" (the Austrian matriculation exam) can sometimes cause sleepless nights. Camilla Reis decided to tackle the problem systematically. "I've liked business management since commercial academy and wanted to combine the subject sensibly – and actually with something creative. So I excluded everything that didn't interest me. And computer science was left over." This is how the native Vorarlberger with American roots describes how she found her way to studying software engineering and management rather unconventionally using the principle of exclusion, and whether the desire for creativity fell by the wayside.
Zero experience with computer science
After commercial academy, Camilla had no experience in programming and did not know very much about it. What was considered "computer science" in school was actually just using Word. So she had to learn a lot of new things in the first semesters, which was challenging in terms of time. She often spent eight hours a day in lectures and continued her studies in the evening. She found the bachelor's programme at TU Graz to be quite "training" orientated – but this changed in the master's programme in Software Engineering and Management, where there is much more work in small groups and much more individual work.
Developing new solutions
Today Camilla loves software engineering mainly because she can create something out of nothing with her own creativity that people can use every day: "There is a question as a starting point, then you have to find a path yourself. That is creativity for me – creating a solution using my own imagination. The tools are there, and the path can and always should be followed." In addition, everything in computer science is always developing: "No one can teach you anything one-to-one. It is precisely this independence that I like," she concludes after five years of study.
If you would like to enrol in autumn and are not yet sure which bachelor's programme you would like to take, Graz University of Technology offers some guidance on making a decision. General consultations giving advice about fields of study are available on Webex until 23rd September. The TU Graz website lists all the appointment times of the online student advisory service. Also on the website you will find links to video presentations in which teaching staff introduce the study programmes. Virtual consultation hours for the individual fields of study take place via video chat. Check the dates for the consultation hours on the TU Graz website "Studying at TU Graz Info 2020" (german version) and enter the online meeting room at any time during the consultation hours via the given entry link.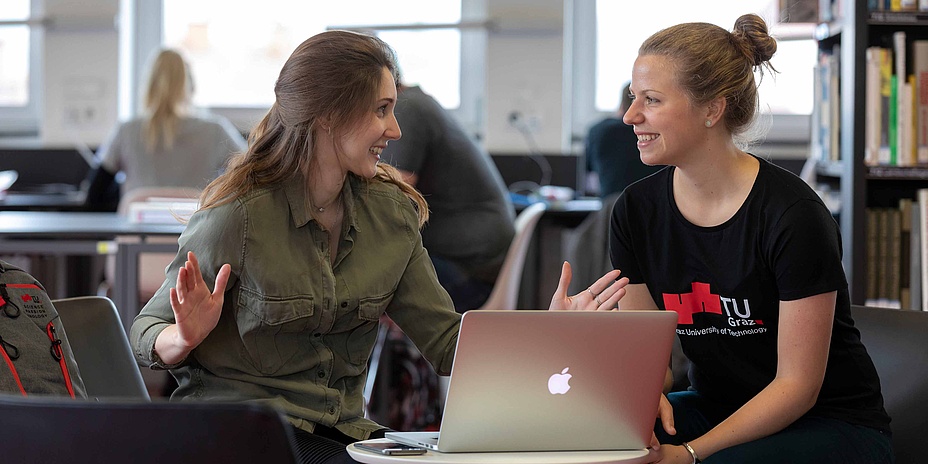 Studying on the campus of TU Graz (here in a library): Camilla's favourite places are in the study centre in Inffeldgasse.
Camilla Reis in the TU Graz News+Stories "word wrap"
I found my circle of friends...
mostly in the bachelor's programme. Today we keep in touch through our WhatsApp group and meet regularly for lunch in the canteen or in the evening..
As a woman in the software engineering programme…
I may be in the minority, but I don't have the feeling I stand out.
I prefer studying most of all at the TU Graz Campus…
– pre-corona I preferred studying in the quiet study berths and bays on the 3rd floor of the study centre at Campus Inffeldgasse. The only problem was: the good places go fast.
While I study…
I work eight hours a week in a software company, but only since doing my master's; before I concentrated wholly on my studies.
is its rural flair and big-city range of activities, the farmers' markets and trendy districts.
In the evening I prefer…
going to Bar 28 near Campus Alte Technik, to the Rock-Bar Nachtexpress or to the Music-House, or I can stay at Campus Inffeldgasse, where (in times without corona-related restrictions) there are often parties or stands of student councils or student teams.
This video is hosted by Youtube, clicking on it will send data to Youtube. The privacy policy of Youtube applies.


Play video
Camilla's story @ TU Graz: Interested in studying at TU Graz? This video tells the story of student Camilla Reis.