I have found people at Graz University of Technology (TU Graz) to be so kind and full of productive and helpful comments. The institutes and the labs have a warm and friendly environment. The professors, researchers, students and staff are always treated with respect and warmth. They helped me a lot to become familiar with the facilities and university structures.
Postdoc at TU Graz – the science point of view
From the science point of view, I have to say that the institutes at TU Graz are equipped with all the modern and updated facilities that could pretty much cover all the needs of researchers in terms of laboratory investigations. With a PhD background in mechanical engineering and carrying out projects in the field of advanced materials science at the Institute of Materials Science, Joining and Forming (IMAT), I was also warmly welcomed by the neighbouring and related institutes at TU Graz, such as the Institute of Strength of Materials (IFL) and the Institute of Analytical Chemistry and Food Chemistry (ACFC). It was easy to arrange meetings with professors, university assistants and students in my institute and group and in other institutes to discuss issues, projects and plans, and to develop new ideas, etc. I found people here eager and passionate about developing innovative products and future technologies.
The field of expertise "Advanced Materials Science" is one of the five strategic focal areas of TU Graz.
I believe that working in multinational groups is a great opportunity. One can learn a lot about different cultures, life styles and can expand his or her circle of friends. It is very valuable, especially in today's world, with the increasing spread of science and the desire of universities and institutions to undertake international projects. In such gatherings, creative ideas emerge that can have universal influence. I highly recommend attending such high-quality groups for those who wish to expand their knowledge. As a member of the IMAT team, I was also honoured to attend several excursions, such as a visit to the Diamond Aircraft Company, an Austrian aircraft manufacturer with production facilities in Austria, Canada and China.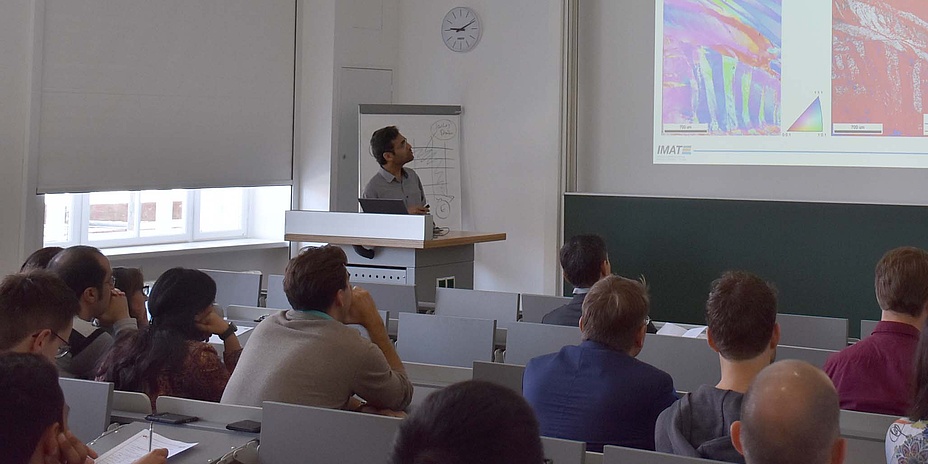 As a postdoctoral guest researcher in the field of advanced materials science, Pourbashiri found people at TU Graz passionate about developing innovative products and future technologies.
Scholarships, Visa, funds and accomodation
My home country, Iran, has been considered as one of the third countries in European Union. There are some opportunities for people like me to get a scholarship for a postdoctoral stay. Among the institutes that offer them, I can mention the Austrian Academy of Science (ÖAW), which has a number of opportunities for scientific researchers to come and stay in Austria and perform high-quality investigations and research. Another possibility includes international cooperation projects between the Austrian agency for international mobility and cooperation in education, science and research (OeAD) and other countries. The relevant information on international cooperation projects can be found on the OeAD website. Particularly for Iranian researchers, a good opportunity is to apply for projects funded by the IMPULS Iran-Austria programme.
Without the help of the TU Graz Welcome Center team, I would have lost my way among the forms and the documents.
Having such funds for my project, I have to say it was a bit hard to know which type of Visa I needed to apply for. As the rules also change over time, I strongly advise prospective visiting researchers to get in touch with the welcome centers of the universities to obtain helpful information and advice. In my case, as the host university was TU Graz, I had the chance to contact the Welcome Center of TU Graz. Without the help of the Welcome Center team, I would have lost my way among the forms and the documents. I cannot commend the kind support enough. I always knew that I could count on help in various topics: Visa issues, accommodation, living in Graz, bringing my family here, etc. The website "Living in Graz for employees" answers to many questions including lots of practical hints about these topics.
Although one can get good information about accommodation and living in Austria from University welcome centers, I would like to introduce some more useful websites:
To rent a flat (private or shared), I can recommend contacting

OeAD-WohnraumverwaltungsGmbH

and checking the online platform

Willhaben

(in German).
Graz is almost a flat city with nice weather. Therefore, I would recommend buying a bike here. Then you can almost go wherever you like in Graz. Second hand bikes at reasonable prices can be had in several stores and on

Willhaben

.
Extending a visiting research stay
There are also some further opportunities for researchers who want to continue their investigations after a short visit as a guest researcher. Among different possibilities, I would like to highlight FWF projects. Such projects can be defined by the researchers here or around the world. Information regarding proposal preparation and application can be found on the FWF website.