When I read scientific literature, I always ask myself the question: WTF? I'm not the brightest candle on the cake, but sometimes it's just impossible to decipher scientists' justifications and inferences. Everyone knows this feeling! Why is it so difficult to write reports in a brief, concise and objective way? If you've written a scientific paper, you'll know what I mean.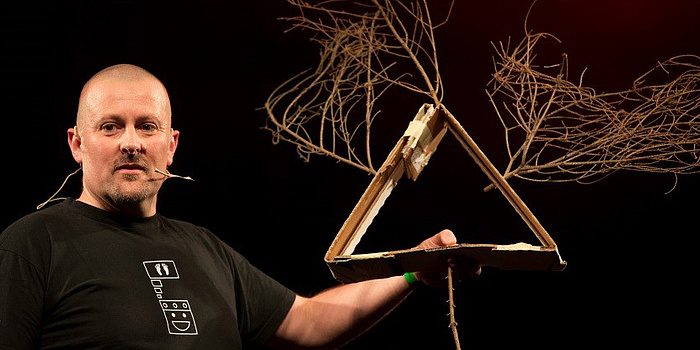 Reinhold Scherer explains Brain-Computer Interfaces with homemade requisites.
How can we enhance the appreciation of basic research in the public eye when even specialists are confused? Public relations work is important. An open and transparent policy regarding information and communication creates confidence and raises acceptance. I hadn't occupied myself with this topic until recently. Two things made me think again: working with patients and my participation in the Austrian Science Slam. In both cases it's important to be brief, concise and entertaining.
Brain-Computer Interfaces
At the Institute of Neural Engineering we deal with the development of brain-computer interfaces – in other words, with the direct interfaces between brain and machine. Put simply, our aim is to recognise the wishes of a person from his brain signals and their translation into actions. In this way persons with serious physical disabilities can interact with computers. But how can I explain to a four-year old with cerebral palsy or to his parents how this technology works?
Science Slam
The Science Slam is a contest in which scientists try to fire the enthusiasm of the public for their research topic in just a few minutes. The Slam takes place in a friendly local atmosphere. Only words and props are allowed. The public decide who presents their research on the stage in the most intelligible and entertaining way.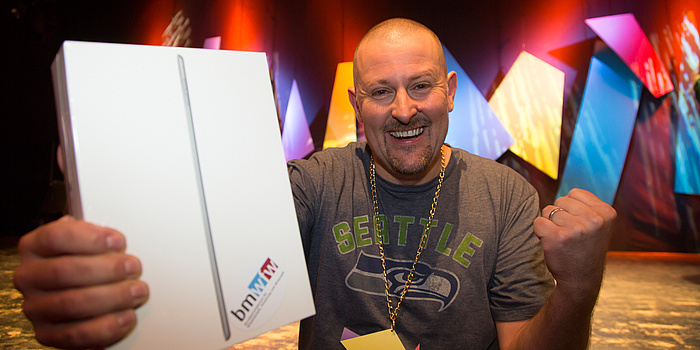 Science on stage: In 2014, Reinhold Scherer wins the Styrian Science Slam and the Austrian Science Slam in 2015.
I managed to win the 2014 Styrian Science Slam in the General Music direction and the Austrian Science Slam in the Arena (see on YouTube in German). The echo in the public and the media was overwhelming. It was reported in the newspapers, on radio and TV, I was chosen as "Styrian of the Day" in the Kleine Zeitung newspaper, I was invited to Barbara Stöckl's talk show, the knowledge show Newton presented me and my work, and on top of this I received an inquiry from a publisher about writing a popular science book. It was a surreal experience. But I gained some unforgettable experience: if you explain clearly which topics you're doing research on, the public will understand you. And what's more satisfying than to have an interested public?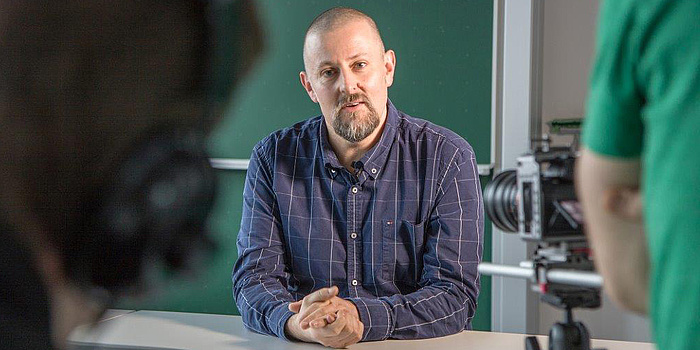 The echo both in the public and the media was overwhelming.
It's even more satisfying when the fire of enthusiasm that one person has, spreads to others. It pleases me no end when I can transmit this enthusiasm to the students I work with and supervise. With the aim of changing things and improving them, they become fully motivated and committed to developing ideas and implementing them.
What's next?
On Friday 22 April, this year's Austrian Science Slam final is taking place in the context of the Long Night of Research. This year, as last year, TU Graz is putting forward the Styrian champion. I wish Florian Preishuber-Pflügel, a young chemist, all the best. I'm in Graz on Friday at the Long Night of Research. If you've got time and share a wonder and passion for science, you're invited to drop in at Stremayrgasse 16 to be inspired by all the exciting topics which will be presented there.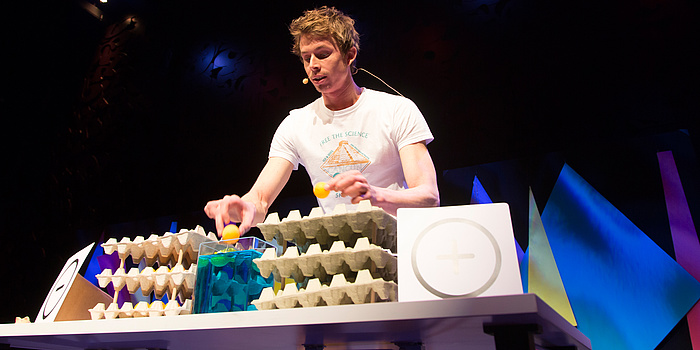 Florian Preishuber-Pfügl, recently done with his PhD at TU Graz, is the Styrian participant at the Austrian Science Slam 2016 on April 22 at the Wiener Heldenplatz.
Also on my programme is a talk at the Multiple Sclerosis Society in Vienna. To motivate young researchers, I'm also holding a workshop at the Graz Museum of Childhood FRida&freD in the framework of the "Echte Erfinder hautnah" series (genuine inventors close up). On top of that, I'll be visiting schools and final-year pupils in Graz. There's a lot to do. Both in and outside of TU Graz.