I grew up in Bosnia and Herzegovina where I have many precious memories, so leaving my home country was really difficult for me. Before moving to Graz to study at Graz University of Technology (TU Graz), I wasn't able to visit the city. Seeing it in pictures and walking its streets for the first time were two different things. Colourful buildings and the green spaces were in both cases very pleasing on the eye. But seeing people rushing somewhere or enjoying their time in a park, tourists taking pictures, kids laughing and buskers performing in the streets has really brought those images to life. Graz is a lively place with many appealing aspects that make you want to stay here.
TU Graz offers bachelor's and master's degree programmes in technology and natural sciences, including a wide range of master's programmes taught in English.
Panoramic views over Graz and surroundings
Enjoying Graz from an altitude makes this city even more delightful. The most popular panoramic view is from Schlossberg, which is a hill in the centre of the city with a 360 degree view. Visiting it at night just adds to the charm.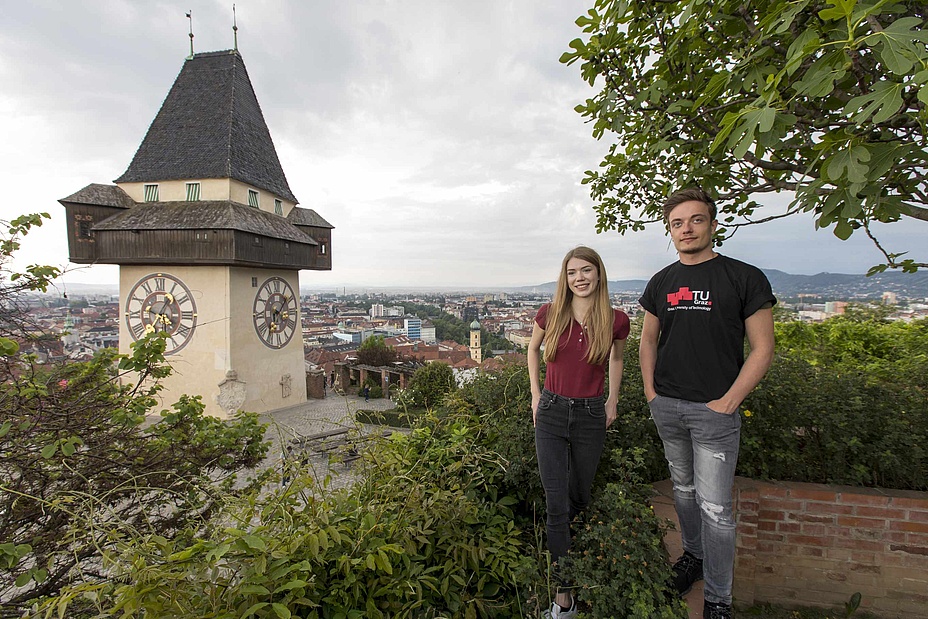 Graz's Schlossberg in the middle of the city is a popular destination, not only for students. The historic clock tower on the left is the landmark of Graz. © Lunghammer – TU Graz
On a trip to Graz's "neighbouring mountain" Schöckl mountain, besides taking in the breathtaking view, you can also relax and have fun with your friends or family. Things to do there include a summer toboggan run, a climbing park, hiking and even paragliding.
If you want to read more TU Graz Student Ambassador Stories or watch videos about working as a student, finding your first accommodation, networking, leisure activities and more visit the "Student Ambassador Stories" website.
Traditional markets, the original TU Graz building and parks
Graz is famous for its local shops, but also for its market places like the ones on Bauernmarkt Kaiser-Josef-Platz and Bauernmarkt Lendplatz. This is where you can find small cafes and restaurants, butchers, fish mongers, fresh fruit and vegetables, flowers and lots more. These authentic markets still do things the traditional Styrian way. Kaiser-Josef-Platz is located in the centre of Graz, near the opera house. Graz's opera house was opened in 1899 and is where many famous operas, musicals, ballets and concerts have taken place. It is the second biggest opera house in Austria. Just a few minutes' walk from Kaiser-Josef-Platz is the original building of the "Imperial and Royal Technical College" (today "TU Graz"), named "Alte Technik". Close by is also Stadtpark, the city centre's biggest park.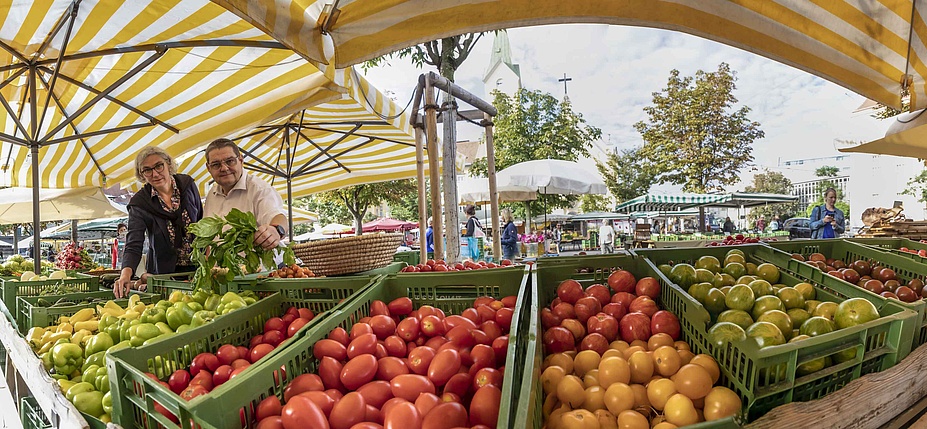 The traditional market Kaiser-Josef-Platz not far from the campus "Alte Technik" of the Graz University of Technology is only one of the numerous authentic Styrian market places in Graz. © Lunghammer – TU Graz
As well as Stadtpark, Graz has many other beautiful parks and lakes like Augarten, Volksgarten, Hilmteich, and Thalersee. They are great places for meeting up with friends, enjoying the nice weather, playing cards or reading books.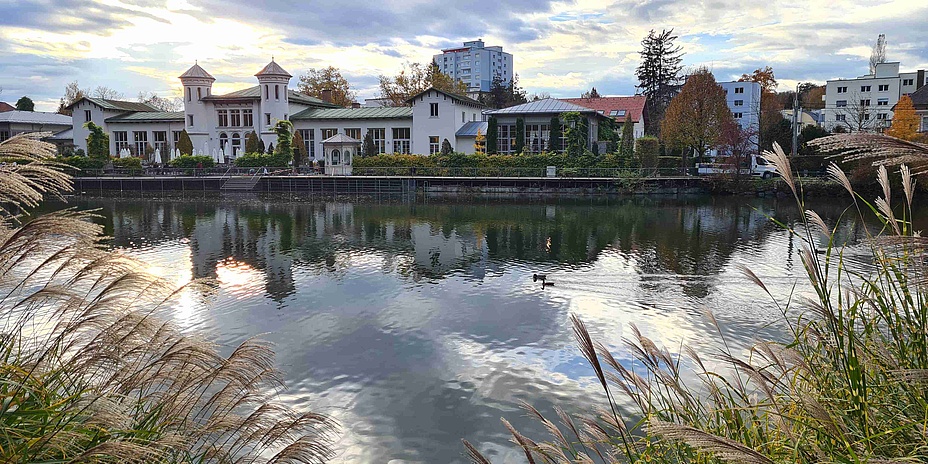 View over the Hilmteich in Graz. © Mark Kozamernik – TU Graz/CEET
The centre of Graz
The centre of Graz is always bustling. This is where you will find lots of coffee shops, restaurants and stores. The downtown area is perfect for exploring on foot, and its pleasant atmosphere gives you a kind of vacation vibe. Everything is within close walking distance, but there is also a good public transportation system.
Winter and summer in Graz
Every season looks enchanting in Graz. In wintertime you can enjoy the Christmas markets. These are street markets open during Advent, where you can drink mulled wine, eat waffles and gingerbread, or buy cute presents for your loved ones. And it feels like you are in a winter fairytale if it's snowing.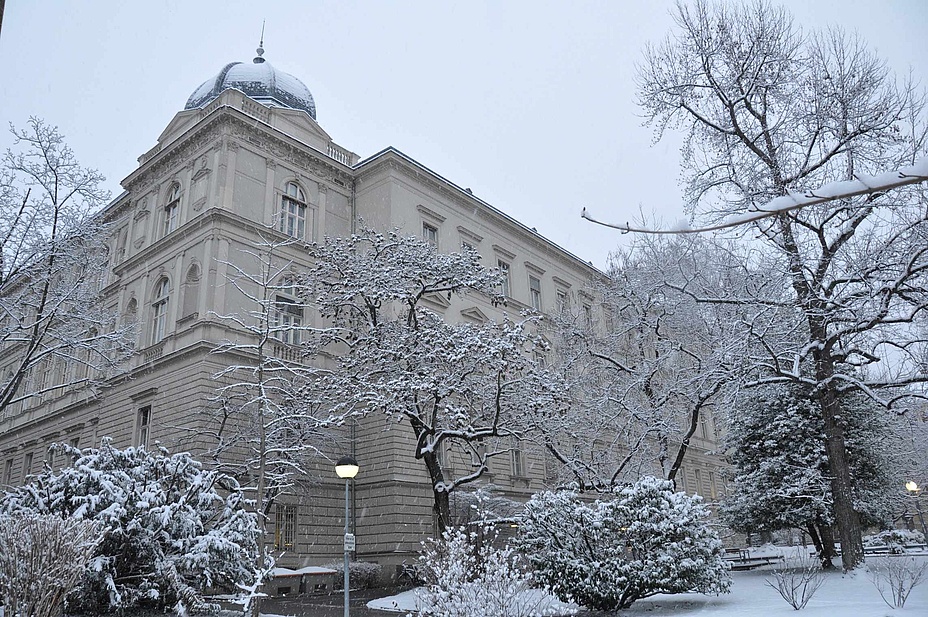 A winter fairytale at the "Alte Technik" building at Graz University of Technology.
In the summer, the city is full of people spending their free time outside. Many of the locals and tourists enjoy warm sunny days at the outdoor swimming pools like Augartenbad and Straßganger Bad or at the Schwarzlsee or Copacabana Kalsdorf lakes. Schwarzlsee is also a leisure park for kids and adults with diving, water skiing and beach volleyball. There are also cafes and restaurants if you fancy something to eat or drink.
Festivals and events
Graz is well known for its many festivals and events like the La Strada street arts and culture festival, the Street Food Festival, and the Aufsteirern festival of Styrian culture. The one I find most interesting is Klanglicht, which attracts thousands of people. Klanglicht (meaning sound and light) is an arts festival which gives the city even more colour, light, arts and culture, and music. It lasts for three or four days and normally takes place in April. In 2020 it could not be held due to the pandemic. This year visitors can witness this magical festival at the end of October. The city's buildings, squares and gardens will be illuminated with artistic lighting accompanied by different sounds. Visitors will be given an opportunity to have a unique experience.
A student city
Graz's appeal is really very unique. Wherever you come from, you can find a piece of yourself. It is a city with a varied cultural mix. With a reputation as a great student town, here students can easily adapt and prepare themselves for all of the new challenges and experiences that lie ahead.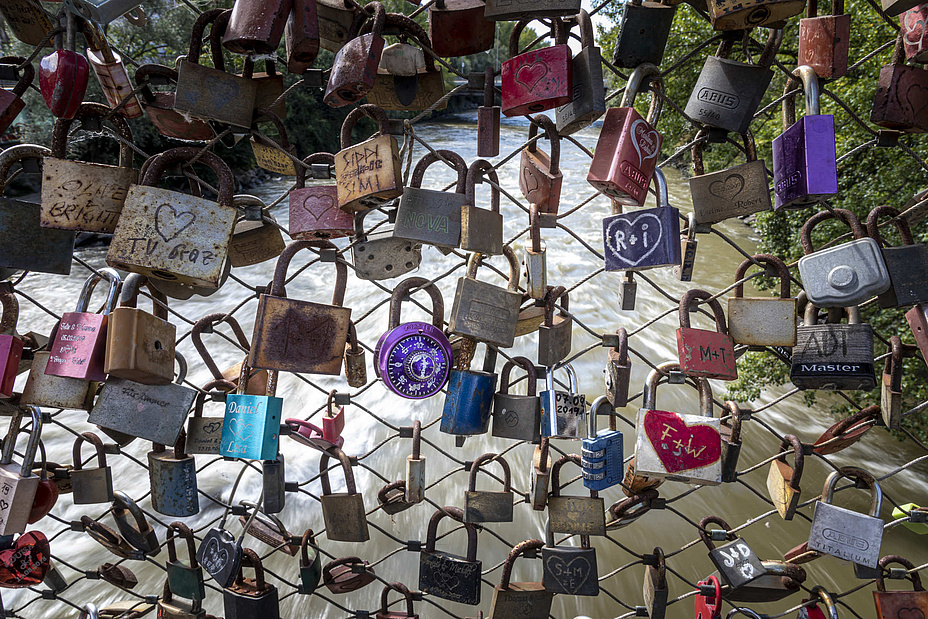 Love locks on the railing of the Erzherzog-Johann-Bridge in Graz. © Lunghammer – TU Graz
Graz has four universities, two teacher training universities and two universities of applied sciences, making it Austria's second largest student city. Its 50,000 students – including about 14,000 at TU Graz – make an important contribution to the rich and colourful life in this appealing, highly liveable city, which has a population of 280,000 people.
Blog start page