According to chapter VII art.39 of the Construction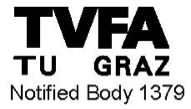 Product
R
egul
ations
(by the EU), the
consistency of construction products regarding the consistency of performance must be teste
d and
assessed by n
otified bodies. Under the t
erms of the Commission delegated regulation (EU) no568/2014, the
se
bodies are:
•
Product certification bodies for the assessment and verifications of the systems 1+ and 1
•
Factory production control certifications bodies for the system 2+
•
Laboratories
– a notified body for system 3 (initial testing
)
The definition of the different systems is carried out by the European commission and can be found in the harmonised European Standards.
The accreditation as a testing Laboratory and a notified certification body enables the TVFA for the notification of all systems. The entire scope of the notification can be found here
.
This allows the TVFA-ZERT to issue certificates for the Systems 1+, 1, 2+ and 3. Producers are allowed to add a CE-label to their product once all certificates are present.
The entire scale of notification can be looked up in the
NANDO-database
.