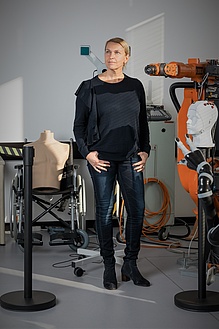 Cognitive Neuroscience (CNS) is the scientific field that is concerned with the study of the biological processes and aspects that underlie cognition, with a specific focus on the neural connections in the brain involved in mental processes. It addresses the questions of how cognitive activities are affected or controlled by neural circuits in the brain. CNS uses the experimental methods of cognitive psychology and artificial intelligence to create and test models of higher-level cognition such as thought and language. It maps higher-level cognitive functions to known brain architectures and known modes of neuronal processing.
Our research is highly interdisciplinary and specialized in the big field of CNS but also covers further disciplines like cognitive and behavioral psychology, neuropsychology, signal processing, brain-computer interfaces, neurophysiology, biomedical engineering and affective neuroscience.
By using different neuroimaging methods like electroencephalography (EEG), functional magnetic resonance imaging (fMRI) and functional near infrared spectroscopy (fNIRS) we investigate brain activity and networks of higher-level cognition in different modalities.