What is the IIM Seminar Room?
The IIM Seminar Room is designed to fulfill the requirements for practicing the Harvard case study method in teaching.
What is the Harvard case study teaching method?
It is an instructorguided, discussion-based form of teaching. Based on real-life problem scenarios the students act together to advance their individual learning.
Offering
Companies can rent the IIM Seminar Room for workshops, trainings and meetings depending on availability.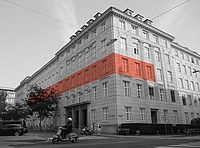 IIM Seminarroom
Kopernikusgasse 24/IV
8010 Graz