ISDS and TU Graz lead CyVerse Austria – Paper selected in HPC2020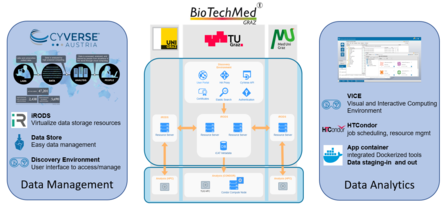 CyVerse in Graz, Austria (CAT) is deployed as an independent instance based on the model CyVerse US (an initiative of the University of Arizona, US, supporting all processes from data generation, management, sharing and collaboration to analytics). It is formed and funded within the framework of the BioTechMed association.
The team of researchers heading CAT wrote a paper that was selected and published in the HPC 2020 (a special issue on High Performance Computing of the MDPI). It was written and co-authored by the head of ISDS (Institute of Interactive Systems & Data Science) – Stefanie Lindstaedt, along with Konrad Lang (Technical Lead CyVerse Austria), Sarah Stryeck (Data Stewart of TU Graz & User Support CyVerse Austria), David Bodruzic (Technical Expert, University of Graz), Manfred Stepponat (Technical infrastructure, Graz University of Technology), Slave Trajanoski (Technical Expert, Medical University of Graz) and Ursula Winkler (Technical Expert, University of Graz). The topic of the paper was CyVerse Austria—A Local, Collaborative Cyberinfrastructure
What is the project about?
Life sciences (LS) are advanced in research data management, since LS have established disciplinary tools for data archiving as well as metadata standards for data reuse. However, there is a lack of tools supporting the active research process in terms of data management and data analytics. This leads to tedious and demanding work to ensure that research data before and after publication are FAIR (findable, accessible, interoperable and reusable) and that analyses are reproducible.
Role of CyVerse Austria (CAT)
CAT has helped to enhance and simplify collaborations between the three main universities in Graz by: (i) creating a distributed computational and data management architecture (iRODS-based), (ii) identifying and incorporating relevant data from researchers in LS and (iii) identifying and hosting relevant tools, including analytics software to ensure reproducible analytics using Docker technology for the researchers taking part in the initiative.
This initiative supports research-related processes, including data management and analytics for LS researchers. It also holds the potential to serve other disciplines and provides potential for Austrian universities to integrate their infrastructure in the European Open Science Cloud.
What to look forward to?
"With CAT, we are already in a global community (partners in US, UK, Australia) and CAT will be expanded on a regional level (Styria), on the national level (EU), to other disciplines besides the Life Sciences and expanded to industry as well.
The first step is already ongoing. We have received funding from BMBWF (Federal Ministry of Education, Science & Research) as a partner university in the project - Austrian DataLab and Services (Lead TU Vienna) to deploy CAT in other Austrian institutions as well as to explore the potential of CAT to serve other disciplines (e.g. humanities, engineering)" says Sarah Stryeck (User Support, CyVerse Austria)
Role of ISDS and TU Graz
TU Graz is the leading institution in the project providing the core system where KFUG (University of Graz) and MUG (Medical University of Graz) are connected. The deployment, trainings and user support are done by researchers from ISDS.
Use cases are already being conducted by researchers from TUG, MUG and KFUG and include biologists, psychologists and physicists. The researchers implement analytical pipelines in CAT, use it for collaborative research in order to have an efficient data sharing process, or automatize with CAT tedious processes.