A semester abroad offers a unique opportunity to travel the world, and you get to see a lot more than just your host university. Although traveling alone can be a challenge, or even criteria to not do it in the first place, don't let it deter you. In this blog post, I try to share valuable tips from my own experience and how you can make your semester abroad more comfortable for you. From having the courage to step out of your comfort zone, to making new connections, to documenting your unforgettable travel experiences - get confident and have the adventure of a lifetime, because you have it in your hands to create your own unforgettable memories!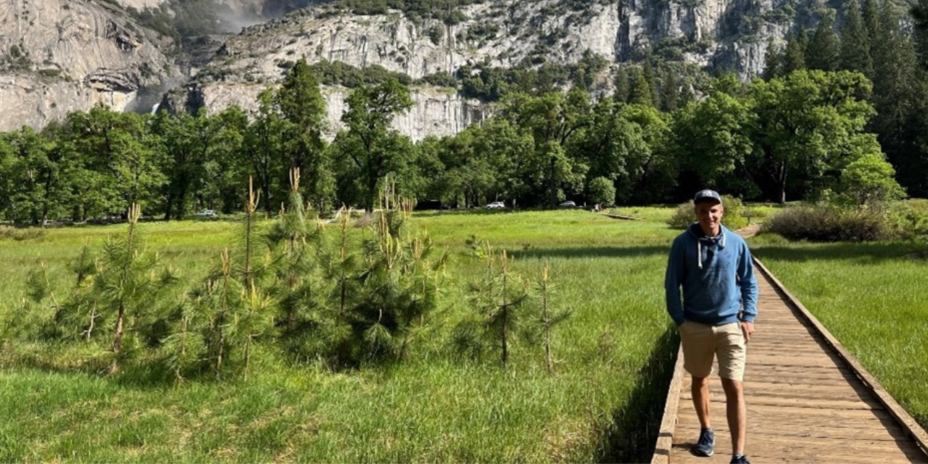 Panoramic view in Yosemite National Park. (Image Source: Christopher Huber)
Preparation is the name of the game
Good preparation is the key to feeling confident and secure. Above all, it is highly advisable to be well informed about the culture and customs of the destination country in advance to avoid unpleasant surprises or misunderstandings. Of course, language preparation never hurts to find your way better in a foreign country. In my case of the USA, I was relatively well prepared with my English due to my education and countless Netflix lessons and had no major problems with communication. If your trip takes you to countries with a foreign language you are not so familiar with, you should at least know some basic phrases in the local language to get by for the most necessary things.
Your stay abroad is confirmed, but your language skills still need some polishing? Then take a look at the language courses offered at TU Graz - from English, Spanish, French, Italian, Portuguese, Russian, Chinese, Croatian and Austrian Sign Language - it's all there!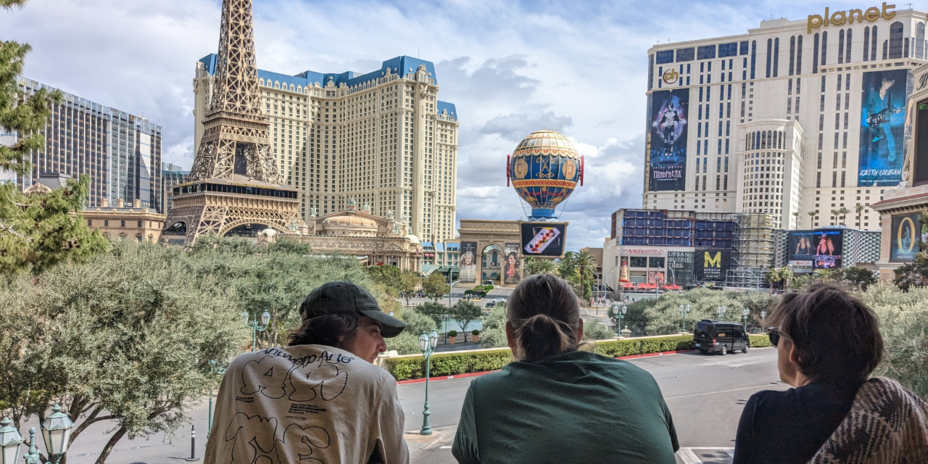 Visit to Las Vegas. (Image Source: Christopher Huber)
About finding accommodation and meeting new people
The journey begins: new country, endless impressions, foreign people, ... What now? Where do I find accommodation?
Especially in big cities, I can personally strongly recommend hostels as accommodation. Hostels are ideal for solo travellers as they offer cheap accommodation and have a relaxed and social atmosphere. Opt for hostels with common rooms or organised activities to connect with other travellers more easily. Often hostels have tours and excursions where you can join other travellers. This is a great way to meet new people and have adventures together. Of course, you also have to pay a bit of attention to the quality since a cheap price is also associated with corresponding cheap equipment. However, I personally had very positive experiences during my trip to the USA in cities like New York, Chicago, Seattle and others. From joint pub crawl tours, hot dog parties to game nights, everything was there. In general, I found Americans to be very friendly and helpful.
Possibilities within the framework of your studies
Of course, the academic aspect also plays a big role in a semester abroad. You are (usually) not ONLY there to travel, but also to advance your studies/language skills and to broaden your personal horizons. Find the perfect mix! Besides the academic education, the social and especially the fun factor should not be neglected.
Universities often offer great courses (sports courses, music, ...) to socialise and lighten up the daily university routine. For example, I took a skiing course and played in the university orchestra. Don't be afraid to try new things!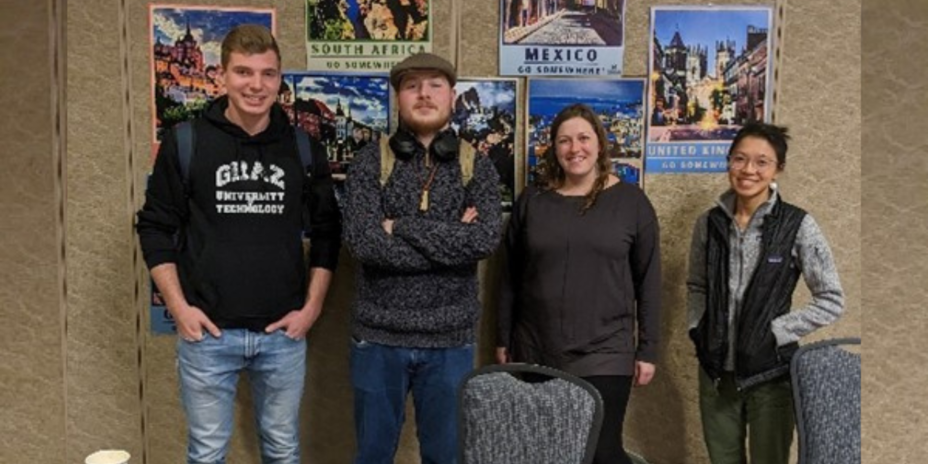 International Office coordinators at an info stand. (Image Source: Christopher Huber)
How else can I meet new people? Try to get in touch with other exchange students. You are usually not alone with your semester abroad and others are just like you and are looking for contacts at the university! Above all, they have the same experiences and can understand how it is when you are a bit overwhelmed with the new situation. Of course, sometimes you have to get over yourself and approach others more or less "offensively-socially". In my case, the International Office of the host university also offered many events and orientations in which I gladly participated and thus I was able to find friends and companions for my entire stay.
Nevertheless, it is advisable to get out of the "international bubble" and make local contacts. Only then you can really get to know the culture and you feel more integrated. For me, living in a dormitory on campus was very cool and I was able to make many American friends.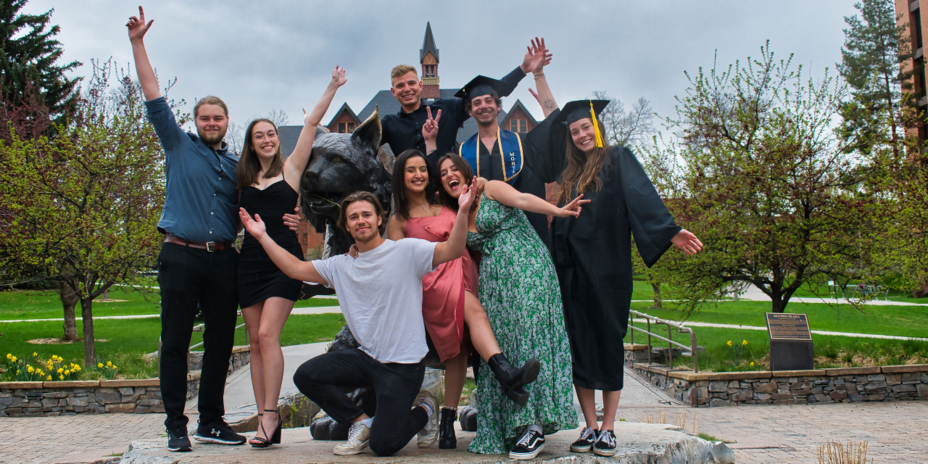 Graduation photo with other exchange students. (Image Source: Christopher Huber)
Spontaneity despite planning
Even though good planning is important, leave room for spontaneity and adventure. Sometimes the best experiences and encounters come from unforeseen situations. Be open to new possibilities and let your intuition guide you. If you see an opportunity that interests you, dare to take it, even if it wasn't in your original plan. Try to get out of your comfort zone and try new things.
Dare to approach people. Give a compliment, ask for directions, ask someone for a photo (believe me you'll need it) ... It's often little things that add spontaneity and spice to your stay.
View of the Skydeck in Chicago at night. (Image Source: Christopher Huber)
Tips against homesickness and documentation of your adventures
Even though you're traveling alone, it doesn't mean you have to be completely cut off from your home. Set up fixed times for phone calls or video conferences with your family and close friends. This will give you a sense of connection and help you cope with homesickness. It's important to stay in touch and talk about your experiences, but also try to fully engage in your adventure without constantly thinking about home.
Even if you're in a foreign country, it's important to find some sort of routine. Find out where you can go for your daily needs, such as a supermarket, a cozy café, or just a familiar meal from home. This will help you feel at home in your new surroundings.
It can also be a great way for family and friends to visit you. Not only does it help immensely with homesickness, but they are sure to have a blast with the visit and along with that, a super experience. It was the same for me and so my family used my semester abroad as a strong incentive for a visit to the USA, which of course also made me very happy!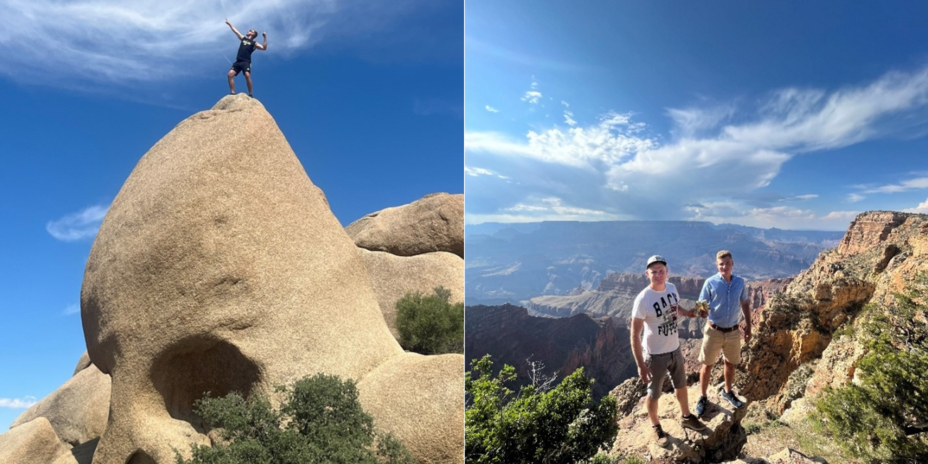 Left image: The sky is the limit! At Skull Rock in Joshua Tree National Park. Right: Cheering the view with my brother at the Grand Canyon. (Image Source: Christopher Huber)

Also, take time to document your trip. Record your experiences, thoughts, and emotions in a travel journal. Especially through documentation, you can only really reflect on what you experience as you are often overwhelmed by so many impressions or stressful days. Social media platforms are a great way to share your trip with family and friends and make new contacts. Personally, I've been continuously keeping up with a photo book and collecting the best shots there. Above all, family and friends back home are sure to be excited about photos and stories!
So what are you waiting for? Go for it!
Convinced about a stay abroad? The International Office - Welcome Center will support you in your search. You can find all the information you need on the TU4U intranet on the page "Mobility programs and funding opportunities".
Blog start page