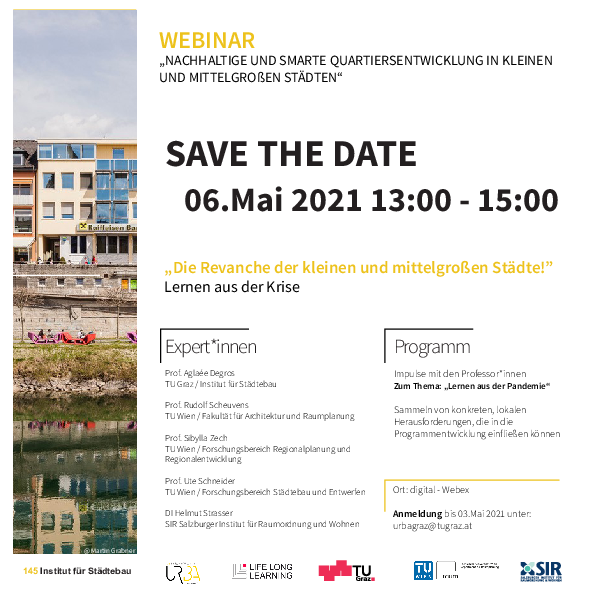 Webinar for sustainable and smart neighbourhood development in small and medium-sized cities.
- Topic: "The revenge of small and medium-sized cities - learning from the crisis".
- In cooperation with TU Vienna and SIR
- 6 May 2021, from 13:00-15:00 hrs.
- Registration at urbagraz@tugraz.at
The webinar serves as preparation for the university course -> www.tugraz.at/go/LLL-SMART
We are experiencing one "crisis" after the next - financial and euro crises, migration flows, climate change and pandemic. These challenges have a significant impact on our cities, communities and our society. In our university continuing education programme "Smart Neighbourhood Development in Small and Medium-Sized Cities", we would like to address the urgent demands of urban development on the ground together with the participants and now invite all interested parties to a non-binding webinar as an information event.
On behalf of Prof. Aglaée Degros from the Institute of Urbanism at TU Graz, we would like to invite you to participate in the webinar "The revenge of small and medium-sized cities! Learning from the Pandemic" on Thursday, 6 May 2021, from 13:00-15:00, to shed light on the path towards climate neutrality, digitalisation and sustainable settlement and urban development together with you and our colleagues from TU Vienna and the Salzburg Institute for Spatial Planning and Housing.
We would like to integrate your experiences and concrete expectations into the programme development of the upcoming University Course and connect them with the thematic framework. More information on the University Course can be found online at www.tugraz.at/go/LLL-SMART or in the attached announcement.
The preparatory webinar offers an information overview on relevant topics and tasks of current urban and regional development and opens a discourse on the question "Learning from the Pandemic". The webinar is aimed at employees in the field of urban and regional development, as well as representatives of political parties.
Participation is FREE OF CHARGE. If you are interested, please send your REGISTRATION by 3 May to urba@tugraz.at.